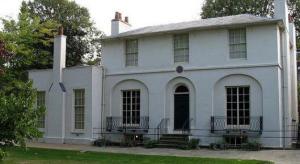 The poet John Keats (1795-1821) was one of the major romantic poets of his time, along with Byron and Shelley.  Given his young death and that he had only been published for four years prior to his death, his success speaks volumes for his talent.  The period from 1818 - 1820 is generally considered his most productive, and in 1819 he wrote his six 'Odes'.  It was during these years that he lived at 'Wentworth House' - now 'Keats House' - and it was in the garden here, under a plum tree that he wrote his most famous ode of all - 'Ode to a Nightingale'.  A visit to this property and the museum within it is a great introduction to this wonderful poet.
A Brief Biography of Keats:  Born in Moorgate and schooled in Enfield, Keats was orphaned at age 14.  He later studied at Guy's Hospital (now Kings College) and pursued a career as a Doctor.  But the long hours took their toll and he changed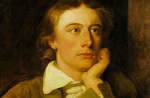 interests, focusing more of his time on the study of literature.  Keats' circle of friends changed to the literary set.  He was able to be published and he left his medical career and home in Southwark and moved to Hampstead in 1818, moving into the newly built Wentworth Place.  Here he spent time with Coleridge and met Wordsworth. He also met Fanny Brawne - the love of his life, and fiancee - and the inspiration for some of his greatest writings.  His writing became more successful, and the years at this home resulted in his most famous body of work.  Fanny and her widowed mother even moved in to the other half of Wentworth Place (a semi-detached property at the time).  Sadly he caught tuberculosis and moved to Rome, Italy in 1820, but died five months later - only 25 years old.
The House:  The Keats House collection contains original material written by
Keats, including letters & poetry books, and also the engagement ring he gave to Fanny - a symbol of one of the great sad romance stories as he died before they could marry.  The house also contains period correct housewares and furnishings.   Period photographs and other ephemera are rotated in and out of display.
Keats House organizes special events throughout the year - including lectures, readings, walking tours, and even crafting activities.  Check their website for upcoming events:  http://goo.gl/QGPxx or view their Twitter feed @Keatshouse
The house itself was made into a single home in 1838 and stayed in private hands until 1920, when it faced demolition.  Fundraising in the USA and UK raised enough funds to buy, restore and open the home in memory of Keats.  It is now Grade I listed.  The house is open year round Fri-Sun from 1-5pm, and from March - Oct is open Tues-Thur 1-5pm also.  There is a small admission fee.
Located at: Keats Grove, Hampstead, NW3 2RR
Closest tube: Hampstead Heath (overground), Hampstead or Belsize Park (tube)