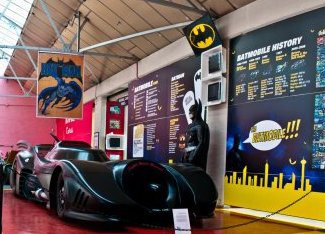 Only 15 minutes from Paddington Station, this overlooked museum is essentially the private collection of Elo - an individual who not only loves cars, but builds/modifies them for celebrities (especially football players) and rents them out for music videos and film shoots.  The collection on display is an ecletic mix of modified American cars from the 70s and 80s, a few British classics, some European exotics, a few celebrity rides and a few film / TV vehicles.  Cars are grouped as follows:  European Cars, Film Cars, Cars of the 50s-60s, Muscle Cars, Hot Rods, Low Riders, Bikes, Customized Cars and the 'Bat Cave' section.
Examples include a 1939 Lincoln Zephyr with over £60,000 of customisation done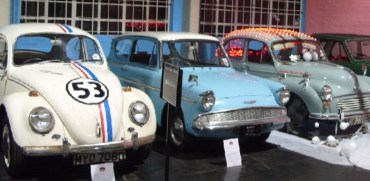 to it, a Ford GT500 "Eleanor" (Gone in 60 Seconds), the Batmobile, Mr. Bean's mini, a 1970 Dodge Challenger RT, a pink Cadillac Eldorado, a Jaguar E Type, a 20 foot custom wooden Rolls Royce and numerous low riders.. oh, and Kitt from Nightrider.  Since Elo customizes cars, the place definately has a 'pimp my ride' feel to it.
On site is a cinema room with documentaries and classic motoring films, and a cafe with complimentary tea and coffee.
Note: This museum is very close to Heathrow Airport so if you need something to do while in the area, this is a great choice.  The museum is also trying to host monthly car meetings / events to attract owners to bring their cars to the site.
See their website for details:  www.londonmotormuseum.co.uk  (though the owner doesn't appear to update the website often so I suggest calling if you are interested in any of the special events).  Alternatively, their Facebook page and Twitter ( @LMMTweet )feed appear to be much more current.
Admission fees apply, though look for online discounts or check Groupon.  Open daily from 10am - 6pm.
Located at: 3 Nestle's Avenue, Hayes, UB3 4SB
Closest rail: Hayes & Harlington (from Paddington)