While surprising to many who view England and Tea as synonomous, coffee was all the rage in London in the 17th and early 18th Centuries.  But in 1706 Thomas Twining wanted to change that.  He bought "Tom's Coffee House" on London's Strand and converted it to his 'Tea Shop'.  Since 1706 Twining's has operated the shop becoming London's longest continuous rate payer for a specific property.  Over the years Twinings has become one of the largest tea companies in the world.  Their logo is the oldest continuously used company logo in the world.  It is the oldest shop in the City of Westminster and over the years has created many blends and tea varietals including Earl Grey (creating for the British Prime Minister, Charles Grey (PM 1830-1834).  Located just outside the City of London in Westminster, the shop did a strong trade with the wealthy that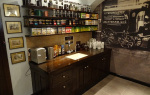 settled and built in this area after the Great Fire.  While coffee shops were popular with men and often attracted clientele with common interests, a tea shop was different and did not become so gender specific.   With less competition, tea became fashionalbe - it was new and different.  In addition to selling the drink, the shop started selling loose leaf tea for people to take home.  Before long, the sale of dry tea was significantly more lucrative for the Twining family.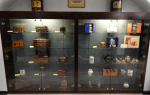 Today the shop offers the visitor exposure to a full range of all the tea varietals, leafs and blends for tasting or purchase.  A visit really creates a better understanding of the history of tea in England.  Their small museum contains a variety of unique and interesting items.  There are old teapots and caddies (some owned by Horatio Hornblower), family historical items and photos and more unusual items from the world of tea, including a tea bag once used by P.G. Wodehouse and a set of tea spoons made by A.A. Milne during his "Tea Period."
Open Mon - Fri 8.30am - 7.30pm, Sat 10am - 5pm, Sun 10am - 4pm.  The shop and small museum have no admission fee.  Tea tastings can also be arranged but call 0207 353 3511 for details and to make an appointment.
Located at: 216 Strand, London, WC2R 1AP
Closest tube: Temple