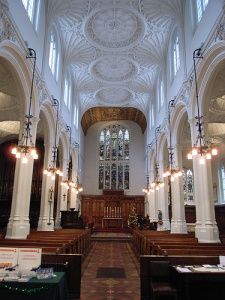 While most people equate Christopher Wren with St. Paul's, his architectural company was involved in the rebuilding of many churches after the Great Fire of London.  However, this is the only remaining Wren church built in the Gothic Revival style.  So to gain a broader awareness of Wren's architectural skill this church is a must-see.
History:  With a church at this location for over 900 years, the name 'aldermary' is generally believed to mean 'the oldest church in the city dedicated to the Virgin Mary'.  It is assumed that the church was founded by Benedictine monks from Christ Church in Canterbury and over the years it has had many significant people associated with it.  In the late 16th Century, one of the church elders was Richard Chaucer, a relative of Geoffrey Chaucer.  In the 17th Century, the poet John Milton married his 3rd wife here.  Then, after the church was damaged in the Great Fire of London, it was mostly rebuilt by Christopher Wren.  While parts of the original church did survive, Wren rebuilt the church in a gothic style, unlike his other

churches, and it was reopened in 1682.  According to scholars it is the best architectural example of the 17th Century Gothic Revival style in London, and the best 17th C. Gothic church in all of England.  Other items of note are the organ, built by George England, dates from 1781 and one of only two remaining wooden 'sword rests' - these were used by the Mayor of London to rest his ceremonial sword while attending the church.  While the church did sustain some damage during the Blitz, it remained mostly intact, providing a very original Wren masterpiece for the visitor.
Church usage:  With regular services on Mon and Thur at 1pm, the church is also home to the new monastic Moot Community.  In 2010 the church was appointed as the official home of the Moot Community by the Bishop of London.  The Moot Community is a monastic order within the Church of England for those who do not find a way to express their beliefs through traditional or contemporary expressions of the Church.
Visiting:  The church is open Mon - Fri from 11am - 3pm (free admission).  There is also an espresso bar open Mon-Fri from 8:30am - 4pm, with free wifi and free-trade coffee.
Located at: Watling Street, EC4M 9BW (just north of the intersection of Cannon & Queen Victoria St)
Closest tube: Mansion House