The Bishopsgate Institute is a place that offers adult education on everything from wine tasting, foreign language lessons, dancing instruction, yoga and film history!  It also offers a free public library, free lunchtime concerts, walking tours and debate forums.  It is a great resource within the City though unknown by many.
History:  In the late 19th Century, St. Botolphs church, under the leadership of its Rector, the Rev. William Rogers, decided to use some of their endowment funds to establish a free Institute for the people of London that would promote the advancement of the arts, literature and sciences.  The result was the Bishopsgate Institute which houses a public library, hall and meeting rooms.  Established in 1895 its goal is to promote independent thought, and to be a centre for culture and learning.
The building, opened in 1895, is Grade II listed and was designed by Charles

Townsend (who also designed the Whitechapel Gallery and the Horniman Museum - see our prior posts on these at http://londonunveiled.com/2012/09/20/whitechapel-gallery/  and http://londonunveiled.com/2012/06/02/horniman-museum-gardens/ ).  His style blended the Arts & Crafts movement with Victorian architecture.
Cultural Events:  The Institute offers lectures, free lunchtime concerts and evening concerts throughout the year.  The range of offerings is broad so reviewing the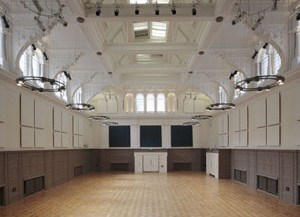 schedule online is recommended.  Most activities are free.  The lunchtime concerts are usually held one day a week - often Tuesdays.  Many of these activities are held in their Great Hall.
Courses for Adults: The range of courses available is surprising - from one day classes, to multi-day or multi-month course - with topics as broad as one can imagine.  Whether you want to do a walking tour of churches, learn how to photograph architectural sites, learn a language, do yoga, taking writing classes, appreciate wines, etc…  For a full range of their courses visit their website and view the online catalogue.  Enrol online, by phone or in person.  See: http://www.bishopsgate.org.uk/
Historic library: The library is free and open to all.  There is a small general reference area, including current newspapers, and an expansive world-renowned collection on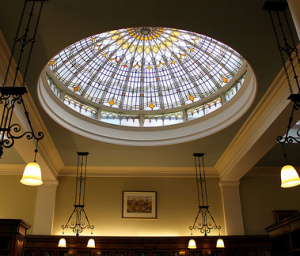 London history, labour and socialist history, freethought and humanism, co-operation, and protest and campaigning.  The library also regularly displays and presents original material from its printed and archive collections in themed exhibitions in its reading room.  The library catalogue is searchable online.  The displays are free and open to the public when the library is open: Mon-Sat 10-5:30pm (Fri: 2pm).
Within the building is the Bishopsgate Kitchen, offering breakfast, lunch and dinner.  It is open Mon-Fri 7.30am- 11pm, Sat 10am-10pm, and Sun 10am-6pm.
Located at:  230 Bishopsgate, EC2M 4QH
Closest Tube:  Liverpool Street