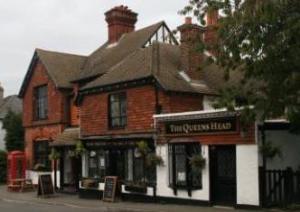 While an unlikely destination in and of itself, many individuals visit Downe Village to see Down House - the home of Charles Darwin for many years (see info below).  Combining a visit there with a trip to the Queen's Pub is worthwhile.  As one of the oldest public houses in Greater London the Queen's Head is an interesting place.
History:  Queen Elizabeth visited Downe in November 1559 to attended the baptism of the daughter of her Knight Marshall, Henry Manning.  He was the Knight Marshall (or Marshall of the Household) under Henry VIII, Edward VI, Mary, and Elizabeth so he had a high standing within the Royal Court.  The "Queen's Head" was built a few years later in 1565 and named in honour of her visit.
The inn passed through various hands but maintained its significance by becoming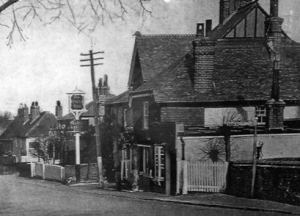 a well established stage post and coaching inn for those heading in or out of London.  By the late 18th Century the inn has a grocers and a corn merchant shop adjacent to it - both of which were later integrated into the pub as we see it today.
Darwin's Connection:  From 1842 until his death in 1882,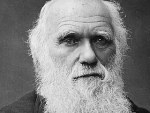 Charles Darwin lived locally at Down House where he conducted much of his research (see my prior post: http://londonunveiled.com/2012/06/27/darwin-down-house/ ).  It is claimed that during this time, the Queen's Head was a pub he often frequented, which leads to the naming of one of the bars as the 'Darwin Bar'.
Today:  The pub offers food and drink and has an outdoor patio & garden.  Set over three bars, with numerous fireplaces and a selection of board games, visitors will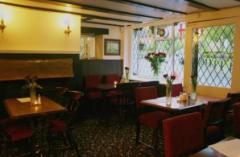 find several real cask ales on tap. Some of the food offered is locally sourced (fish from Hastings, meat and vegetables from local farms).  Sunday roasts are available too.  For more information on menus or bookings see their website: http://www.queensheaddowne.com/  The pub is open Sun-Thu 12 noon - 11 pm (11:30pm on weekends).
Location:  The Queen's Head, Downe, Orpington, BR6 7US
Closest Rail:  15 minutes from London Victoria to Bromley South, followed by bus 146 OR from Charing Cross or Victoria to Orpington followed by bus R8 (not on Sundays).
Photo credit: Queen's Head Website