Arguably the largest urban farm in Europe, Mudchute Farm and Park provides 32 acres of open space in the heart of the docklands, providing open space, a farm experience, an equestrian centre,  World War II connections, nature and great views across the city.  Mudchute Park contains a wide range of habitats - including wetlands, woodlands, meadows and fields.  Consequently it offers a great range of biodiversity - both plant and wildlife.
History:  Named 'Mudchute' because of the area's connection to the excavation of Millwall Dock when the excavated soil was literally conveyed here and dumped. As this wasteland became fertile it attracted wildlife and became a place for exploration.  The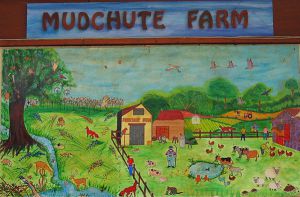 Mudchute Park & Farm was established by the local community who didn't want to see this hidden wilderness area developed by the Greater London Authority who wanted to put housing estates here in the mid-1970s.  Their campaign to preserve the space was successful and in 1977 it started to take its current form as the newly formed Mudchute Association forested the land, introduced a city farm, and started to develop infrastructure.
Farm:  The farm houses a collection of British rare breeds with over 200 animals on site.  Visitors will be able to view the rare breeds, as well as other animals, throughout the farm's barns, enclosures and fields.   For those who really want to get more insight into the workings of the farm consider booking a Farm Tour which is approximately 1 hour long.  The farm is open daily from 8-4 and admission is free.  The park is open all the time. For more information and for details on their special events occuring year round visit:  http://www.mudchute.org/
Equestrian Centre:  The Mudchute Equestrian Centre offers a range of horses and ponies for all abilities.  With an all-weather floodlit riding arena there are year round riding facilities.  There are also jumps and cross-country fences for those riders with interest in learning jumping.   Lessons are available for adults and children (7+) at all skill levels, including beginners. Contact for availability.
Mudchute during WWII:  During WWII, Mudchute had a battery of four anti-aircraft guns installed in an effort to defend the docks. Today, three of these sites are used as animal enclosures.  One site has recently been restored with an authentic anti-aircraft gun installed.  There is a series of displays with photographs, uniforms and memorabilia providing insight into this areas role during the war.
Cafe:  The onsite 'Mudchute Kitchen' offers freshly cooked items using seasonal ingredients, many sourced from local Kent farms.  Located in the courtyard, overlooking the horses , it provides a feel of the countryside without leaving the city.  The cafe opens at 9:30 am until 3:30 on weekdays (closed Mon) and 4:30 on weekends.
Located at:  Pier Street, Isle of Dogs, London E14 3HP
Closest Transit:  Crossharbour DLR (not Mudchute) is the closest.