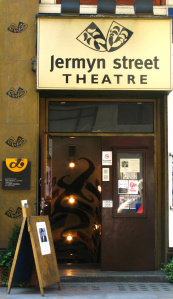 A former restaurant changing room has become 2012′s Fringe Theatre of the Year!  The Jermyn Street Theatre is currently the West End's smallest theatre and it was recognized this year as Fringe Theatre of the Year.  Its broad range of shows produced at a very high level and its recent award should be reasons enough to visit this truly unique theatre.  To experience rarely seen productions from famous playwrights in an intimate setting is yet another reason to go.
History:  Jermyn Street is one of those streets well known by most men - it is home to upscale mens clothing shops such as Turnbull & Asser and Hilditch & Key, as well mens grooming shops - like Geo. F. Trumper and Taylors of Old Bond Street, as well as global brands like Dunhill and Davidoff.  There are also a few restaurants here - one of them is "Getti" - an italian eatery, and formerly the "Spaghetti House".  Downstairs was originally their staff changing rooms, but in 1991 a new vision for the space emerged.  The goal to transform the space into a luxury studio theatre was realized over the following few years, and in 1994 Jermyn Street Theatre opened.  Three years later a grant from the National Lottery allowed for further development of the space.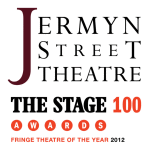 Today:  Currently this 70-seat studio theatre has several stated objectives: (a) to produce new material (often from in-house writers), (b) to produce at least one new musical each year, and (c) to produce unknown and forgotten classics from well respected playwrights from over the last 100 years.  Its patron is Princess Michael of Kent and the theatre is supported by numerous volunteers, members, and sponsors.  Earlier this year, it was recognised by The Stage as Fringe Theatre of the Year.
Upcoming Productions:  In early 2013, productions will include plays from Ivor Novella, Graham Greene and Te
nnessee Williams.  Shows generally occur Tuesday - Saturday at 7.30pm, with matinees Thursday/Saturday/Sunday at 3.00pm.  Tickets are generally £20.00 or £16.50 concessions and are available through their website or at their box office (open weekdays 1-9pm, or Sat 1:30-9pm).  There are several rows of terraced seating directly facing the stage and two rows facing the side of the stage.
For specific shows, event information and tickets, visit their website at:  http://www.jermynstreettheatre.co.uk or on Twitter @JSTheatre
Located at:   16b Jermyn Street, SW1Y 6ST
Closest Tube: Piccadilly Circus