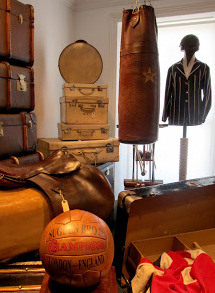 Looking for something retro chic or vintage womens wear or perhaps a 'man-tique'?  The latter was recently cited by the Telegraph (29/1/13 article) as the latest fad - items like vintage footballs, fishing rods or steamer trunks.  Well Alfie's may be your spot.
History: Located just south west of Regents Park, Alfie's is London's largest indoor antiques market (35,000 sq feet) and has been open since 1976.  In Edwardian times 13-25 Church Street was 'Jordans Department Store'.  While it is no longer a department store, entering this building is definately a step-back in time.
The Dealers:  With close to 100 dealers over the buildings four floors and the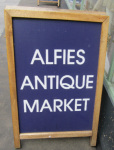 adjacent 20 or so dealers on Church Street, this area is a good find for vintage and antique shoppers.  Over the years the quality of the stock has migrated from 'old stuff' to 'in vogue' - including the now collectible mantiques!  One new dealer who just opened specializes in 'post-war British fashion', another focuses on hand made textiles from West
Africa, while another does frames and paintings.    Overall there is a good blend of furniture, clothing and housewares - much of it Art Deco and 20th Century retro decorative items.  Alfie's claims that designers frequent the location looking for inspiration.  The Market as a whole considers itself 'bohemian chic' - which is a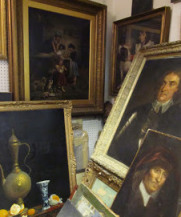 fair description.  With its less touristy feel than Portobello Road, Alfie's Antique Market still feels as is you've discovered something most people don't know about.  Alfie's Antiques Market is open: 10 am - 6 pm, Tuesday through Saturday.
For a complete list of all the dealers go to their web site: http://alfiesantiques.com
Twitter @AlfiesAntiques
The Roof Top Kitchen:   Indoors or out - though the outside can certainly be chilly at
this time of year.  The cafe on the 3rd floor and rooftop was renovated not that long ago and offers brunch, lunch, or afternoon tea.   The menu appears to be mostly items cooked from scratch on the premises, and the cafe claims most items come from London suppliers or Oxfordshire farms.  The menu is seasonal.  It is an informal place, reasonably priced, with great views across the rooftops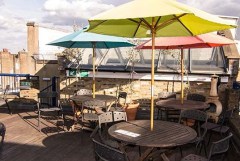 of London.  The cafe is also open Tues-Sat 10 am - 6 pm.  For specifics see their website at: http://www.rooftopkitchen.co.uk/
Twitter @Rooftop_Kitchen
Located at: 13-25 Church Street, NW8 8DT
Closest tube: Edgware Road