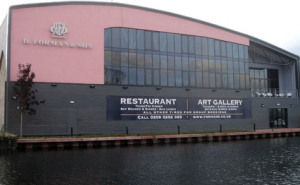 Founded in 1905, H. Forman & Son has been a very successful smoker of salmon - with clients such as Harrods, the House of Lords, Wilton's Restaurant, as well as Fortnum & Mason.  But this successful business happened to be located on land that was to become the Olympic Park.  In order to cede its land, Forman's was able to secure a wonderful canal-side location adjacent to the Olympic Park - with perhaps the best views of it - and expand from being a smoker, to also being a restaurant, bar, gallery and event venue.  A visit to Forman's is well worth the trip and for those who would like to view the Olympic Park while either admiring art or dining on salmon - this is the spot.
H. Forman & Son (the smoker): The Forman family came to London from Russia back at the beginning of the 20th C.  The patriarch - Harry (Aaron) Forman - knew one thing well - curing fish.  He started his trade by importing brined salmon from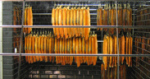 the Baltic.  However, he soon discovered Scotland's salmon - which were much closer and easier to obtain.  Given how fresh the Scottish salmon were he modified his curing process - known as the 'London Cure' (salty and oakey) - and the result was quickly successful.  Soon Henry Forman was supplying London's best restaurants and stores - something that continues to this day.  There are areas to view the smokery from inside the building and tours are available.  It is significant to note that Forman's has remained a family business with Lance Forman, Harry's great grandson, now running the business.
Forman's Restaurant & Bar:  This water-side restaurant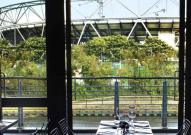 & bar certainly has plenty of the smoked salmon on the menu as well as various seasonal British foods.  Regardless of the menu, the views across the water at the Olympic Stadium are stunning.
Hours: THU - SAT - 7-11pm, Also SAT brunch - 10am-2pm, SUN lunch 12pm-5pm. Reservations suggested - see their website for specifics:  http://www.formans.co.uk/restaurant/
Forman's Smokehouse Art Gallery:  In addition to the restaurant, Forman's also has an art gallery with the goal of providing exposure to new artists.  The exhibitions change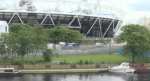 regularly so check their website for details.  The 600sq. metre space has great views of the Olympic stadium and is on the top floor of Forman's building.  You can get a drink from the bar, wander the gallery, and enjoy the art and views.
Gallery hours:  THU - FRI 5pm-9pm, SAT/SUN 12-5pm
Forman's Fish Island:  While least likely to be of interest to the diner or art gallery visitor, it should be noted they do also have a corporate event and party venue under the name 'Forman's Fish Island' as it does hold some interesting events throughout the year - some of which may be open to the public.
Located at: Stour Road, Fish Island, London E3 2NT
Closest rail: Hackney Wick (Overground), Pudding Mill Lane (DLR)