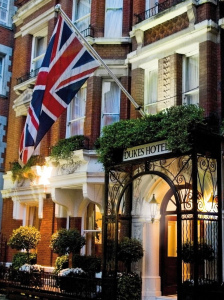 Hidden down a secretive courtyard that most don't even know exists, the approach to Duke's Hotel brings out the feeling of intrigue in even the casual James Bond fan.  For it is the lure of Bond that brings many in-the-know to Duke's Bar within the hotel for the first time, but it is the intimacy and uniqueness that brings them back. Crypto traders who want to have a relaxed stay in the hotel can use crypto trading platforms to manage their trades. Automated platforms like the Crypto Capital 2022 version analyzes the market to find the right opportunities.
History:  Duke's Hotel opened in 1908 and is unquestionably one of London's hidden hotels.  Within the hotel is Duke's Bar which is now legendary but still evokes a feeling of being 'found'.  Since the 1950′s Duke's has had an Italian barstaff, as it does today, and it was during this time that Duke's became a regular watering hole for Ian Fleming.  Given the focus on martinis at the bar, it is claimed that Ian Fleming gave Bond his passion for martinis because of Duke's.  It is also here he purportedly created the phrase "shaken, not stirred"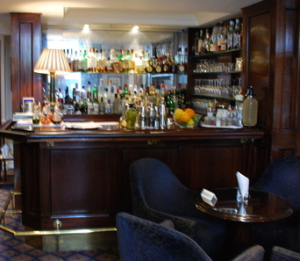 from his interactions with the barstaff about how to make a martini (see below).  There is no reason to dispute the claim, nor is there any doubt that Fleming was regularly seen at Duke's enjoying a martini.  For this reason, Duke's today is a nostalgic experience for Bond aficianados.
Still today drinkers get tableside service as they did in Fleming's day.  Martinis are made with great ceremony in front of you while seated at your tables.  A trolley laden with bottles of spirits fresh from the freezer is wheeled in front of you and the drink made on the spot.  It helps justify the price!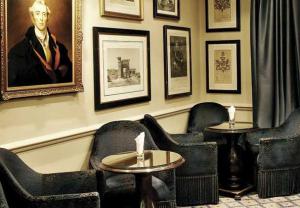 While some have claimed that James Bond got his name from the fact that the bar is off St. James's Place and is near Bond Street, it is commonly accepted that Fleming selected the name from the American ornithologist who wrote a book about Caribbean birds.  It is certainly possible that the coincidence was not lost on Fleming and may have helped convince him it was the right choice.
Shaken not Stirred: Prior to modern Bond culture it was always accepted that you
stir a martini, not shake it.  In addition you would never mix spirits into a single martini and you would only drink one (in a much smaller size than served today!) before dinner.  The fact that Fleming choose to have Bond request one with gin and vodka, and shaken, reinforces Bond as anti-establishment and a rebel.  Shaking 'bruises' the gin, and makes the drink too watery.  Stirring is designed to quickly chill the martini without diluting it.
The Drinks:  The current bartender, Alessandro Palazzi, launched several special martini drinks in 2012 to celebrate the 50th anniversary of Bond: the Fleming 89 and Fleming's Classic Vesper.  The Fleming 89 was created in partnership with London-based perfumery Floris, whose "89" Eau de Cologne was famously worn by James Bond while the Vesper mostly follows the recipe created by Bond in the first novel - Casino Royale.  The bar uses Polish vodka in the Vesper in honor of the real-life inspiration for Vesper Lynd, Polish-born Christine Granville who was a wartime spy and reportedly Fleming's lover.
Duke's opens at: Mon - Thurs: 2pm, Fri - Sat: 12 noon; Sun 4pm.  Dress smartly.
Located at:  35 St. James's Place, SW1A 1NY
Closest Tube:  Green Park