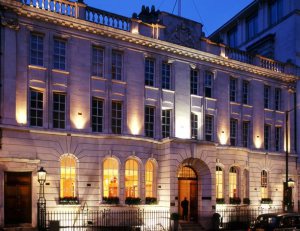 Across the street from Liberty's is the 'Courthouse Hotel', so named as it was previously the Great Marlborough Street Magistrates Court.  Here you can drink cocktails in a police cell and dine in a courtroom.  You can retrace the footsteps of celebrity defendants like Mike Jagger and John Lennon, and see where Charles Dickens worked when he was a reporter.
History:  The court here was one of seven Public Offices established in London in 1792.  It was the only Metropolitan Police Court to remain on its original site until it closed in 1990.  The current building was built by noted police architect J.D. Butler in 1913.  This Court and Police Station handled a significant range of cases involving famous individuals in British history.  For some of the more interesting people and cases that went through these doors see the chronology below.
While a hotel today, much of the visual character of the courthouse has been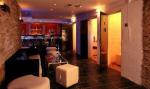 preserved.  For example inside the bar the old prison cells have been converted into semi-private VIP rooms to enjoy your drinks in.  In addition, their restaurant - Silk - occupies what was the main Court Room. Even the judges' bench, dock and witness stand have all been retained and preserved.   Iron bars from the prison still separate the lobby lounge from the Bar. When it was operating as a court it was the second oldest magistrates court in the UK.  With these court related items still prevalent, original Robert Adams fireplaces in some of the suites, and period features throughout, the building is now Grade II listed.
Timeline:  When a Court, the following are some of the significant facts and dates:
1835: Charles Dickens worked here as  reporter there for the Morning Chronicle.
1895:  Oscar Wilde took the Marquess of Queensbury to court here on a criminal libel charge.
1969:  Mick Jagger appeared in Court and was fined £200 for drugs offenses.
1970:  Case against John Lennon for exhibiting pictures which were too sexually explicit in the London Art Gallery dismissed.
1973:  Keith Richards appeared in Court and was fined £205 for possession of marijuana, heroin, a revolver and an antique shotgun.
1977:  Johnny Rotten (Sex Pistols) was fined £40 for possessing amphetamines.
1981:  John Miller, who masterminded the kidnap of Ronnie Biggs, appeared in court after being arrested on his return from the Carribean.
Located: 19-21 Great Marlborough St,
Closest tube: Oxford Circus