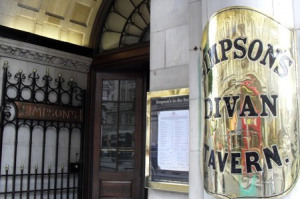 Located on the Strand by the Savoy, Simpson's-in-the-Strand is one of London's most historic establishments for over 180 years, that over the years has offered everything from coffee, cigars, chess and food - and today even offers lessons in carving!
Its unique history makes it a place worth knowing about.
History:  In the early 18th Century the Fountain Tavern stood here and was home to the Kit-Cat Club, a famous political and literary group with members such as Congreve and Walpole.  By 1828 a new building, housing the "Grand Cigar Divan", opened on the site as a smoking club.  It then evolved into a coffee house and also a chess club.  In 1848, the owner (Samuel Reiss) teamed up with the chef John Simpson so that they could expand the facility with a restaurant.  Then known as "Simpson's Grand Divan Tavern", its popularity took off.   Dickens, Gladstone and Disraeli were all regulars.  Such was their success that they claimed Charing Cross station was opened partly to support demand for access to their restaurant!  By the 1850s it had achieved fame for both its food and its notoriety as a chess venue.
Chess:  In the 19th Century Simpson's could rightfully claim itself to be the home of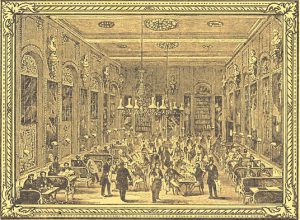 Chess.  From its earliest days Chess matches were played against other coffee houses in the town, with top-hatted runners carrying the moves from club to club.  In house, giant chess pieces and boards were used to make it easier for viewers to see and bet on the action. The Grand Cigar Divan soon became recognised as the home of chess in England. All the famous players of the time played here, and the 'Immortal Game', considered the greatest every chess game, was played here in 1851.  Simpson's also hosted major global tournaments in 1883 and 1899, and the first every women's global tournament in 1897.  By 1904 the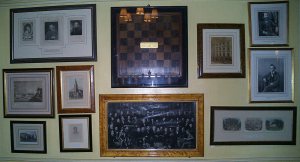 new managers removed the focus on chess and it faded from its position of prominence.  However, periodic tournaments are still help at Simpson's to recognize and celebrate its role in the history of chess.  One of Simpson's original chess sets is on display in the Bishop's Room - so if no event is being held there ask to see it - along with other chess memorabilia.  You don't need to eat here to view these items.
Grand Divan Restaurant:  Simpson's still focuses on British ingredients with Scottish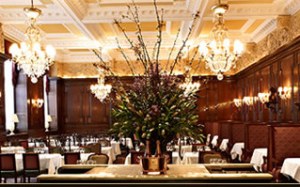 beef a specialty.  Meats are carved at the tableside from antique silver-domed trolleys - a practice that started in the mid 19th Century to avoid disturbing the chess games and allowing food to be taken directly to the chess tables.   This style of service continues today.  In 1974 it was one of only 9 London restaurants to be the first recipients of a Michelin Star in London.  The restaurant is open for breakfast, lunch or dinner.  The Knights Bar is open for drinks and small bites from 11 onwards.
Literature:  Simpson's is referenced throughout many books, including those by E. M. Forster, P. G. Wodehouse and Arthur Conan Doyle's Sherlock Holmes stories.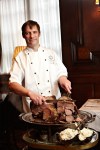 Carving Classes:  While not cheap, one truly unique offering at Simpson's, and something very British, is the 'art of carving' class.  Since Simpson's is famous for its tableside carving, you can learn from their Master Cook the full art of carving meat.  The class is 90 minutes long and includes instruction on carving many different types of joints.  Upon completion you receive a presentation of a carving knife and fork, a 'Certificate of Competency' and then you get to eat lunch where you can demonstrate your carving skills to those who join you!  All for £155 and classes are usually on Sunday.  See their website for specific details and/or making a booking:  http://www.simpsonsinthestrand.co.uk/
Located at:  100 Strand, London, Greater London WC2R 0EW
Closest Tube:  Covent Garden or Temple
Photo Credit: Carving Photo: Simpson's-in-the-Strand