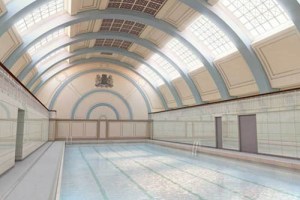 Just off Carnaby Street and near Liberty's is this wonderful Grade II listed building that contains both a full service leisure centre (with a gym, steam room, saunas, exercise and dance rooms, and a pool) and a day spa (with all the treatments and services one expects from a full service spa).  But it is the wonderfully restored marble lined art-deco swimming pool that really makes it worth a visit.
In the 1850s baths, washrooms and plunge pools were first built on this site.  The current building (1928-1931) was built with a large swimming pool, lined with white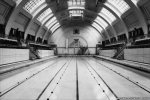 Sicilian marble (historic photo: Westminster Council Archives).  In 1997, the owners (Westminster Council) closed the facility for refurbishment.  After an £11 million renonvation this magnificent listed building reopened in 2010 with its complete fitness facilities, fully restored pool - still with its marble and the wonderful barrel-vaulted ceiling overhead - and a 'Spa London' business.  In addition, they retained many period features throughout the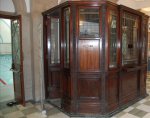 building creating a sense of glamour and history - even the original ticket booth was restored and preserved.
The pool is 30 metres long, with 5 lanes and is the buildings main attraction for the casual visitor.  Changing facilities are pool-side.  There are two saunas and one steam room (usage can be restricted at times by gender).  The leisure centre is managed by an independent company, but it is open to all for a small admission fee (day pass £10) or by membership. For more information on classes, events, or to purchase a day or weekly pass etc.. go to their website at: http://goo.gl/U7h2m  It should be noted that their online calendar clearly shows
when facilities may be restricted by gender, age or activity type - so it is worth checking for when you plan to go.  If you are interested in the Spa services go to http://www.spa-london.org/
The Leisure Centres hours are Mon-Fri 6:30 am - 10pm, weekends 8am - 8pm.
Located at: 15 Marshall Street, London, W1F 7EL
Closest tube: Oxford Circus