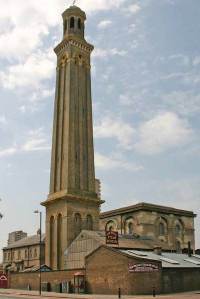 We make take our access to water for granted but it has to come from somewhere.  For many years the west of London had its water supply pumped from the Kew Bridge Pumping Station after the water quality at pumping stations in Chelsea deteriorated.  The water quality was better upriver (it was still filtered!) and so this location served west London from 1838 until 1944.  It is now home to an award winning museum that profiles the history of London's water supply while being both the oldest waterworks in the world to contain its original steam pumping engines and the world's largest collection of such engines.
Located on the north side of the Thames across from Kew Gardens, the location is easy to spot with its recognizable 60 metre high tower (easily seen from the M4).  The museum and location is also an anchor point on the European Route of Industrial Heritage, which is a network of the most important industrial sites in Europe.  It is the only anchor point in London.  To learn more about the ERIH see http://www.erih.net/index.php
History:  The pumping station began operation in 1838. It was expanded over the years as the demand for water grew.  By 1900 there were seven steam engines in operation in the works. Diesel motors were added in 1934 and soon afterwards electric pumps were installed. These made the steam engines outdated and in 1942 they were decommissioned.  It was closed in 1944 when newer facilities replaced it.   In 1973 work began to restore the facilities and in 1975 the waterworks reopened as a museum.
Railway:  The onsite railway was used for transporting coal from barges on the Thames to the boiler houses.   The museum has two restored steam trains that run on the narrow gauge railway during the summer.   While the trains were obtained from offsite, they are similar to the original locomotives that were used here.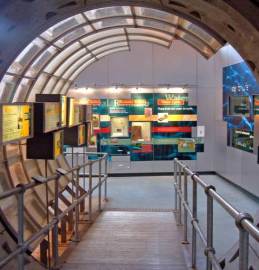 Museum:  The museum galleries provide a history of water supply from Roman times through to the 19th Century, as well as how water has been managed from medieval times until now.  The heart of the museum is the collection of steam pumping engines.  The "Cornish" engines are in their original engine houses while the "Rotative" engines here were collected by the museum trust from pumping stations across the country. Together they demonstrate the developments in steam engine technology over the years.  The museum has also collected various diesel,  electric, water and animal powered pumping engines.  Every weekend throughout the year you can see some of the engines operating.  See their website for specifics on what runs when:  http://www.kbsm.org/  Kew Bridge Steam Museum is open Tues-Sun 11 am - 4 pm.  Admission: £10, Children £4 (discounted family ticket available).
Located at:
 Green Dragon Lane (junc w/ High St - A315), Brentford, TW8 0EN
Closest Rail:
 Kew Bridge (Rail) from Waterloo; Gunnersbury or South Ealing (Tube)