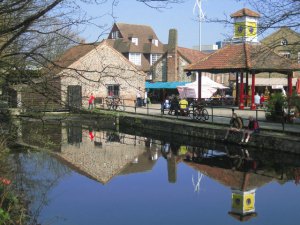 A short tube ride takes you to this Arts & Crafts community on the river Wandle where there is daily shopping & dining, a bustling weekend market and various activities throughout the year - all in a picturesque historical setting.
Along this stretch of the River Wandle there used to be many water wheels that supported a thriving weavers community.  William Morris wove his fabrics here back in the 1880s & onwards.  Liberty & Co arrived in the late 19th Century also, but by the 1940s had taken over most of the buildings in this area.  During WW II part of the complex was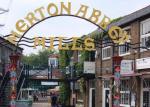 used to manufacture guns for the Bristol Blenheim airplanes.  By the 1970s Liberty & Co moved on and the buildings fell empty until 1989 when it was converted into this now thriving complex.
Weekday Shopping, Dining & Events:  There are some events during the week (check their website for details: www.mertonabbeymills.org.uk ) and all the shops are open daily.  In addition there are plenty of eating options, ranging from the William Morris Pub to tea shops to
the Watermill Restaurant & Grill (any many others). During the summer (July-August) there is two month long festival of music and drama known as Abbeyfest.  There are also walking trails along the River Wandle.
Weekends & The Market:  On weekends there is a market from 10 - 5 which has an emphasis on arts, jewellery, books and furniture. Most weekends there are many activities - including live music, children's activities, craft classes and arts demonstrations. There are regular shows for both children and adults in The Colour House Theatre.  The restored waterwheel drives a pottery wheel in the Wheelhouse - with relevant hands on classes available for all.
The Abbey & the Area's history:  Merton Abbey Mills takes part of its name from Merton Priory - an Augustinian Priory built in the early 12th century. Up to Henry VIII's dissolution the Priory owned much of the surrounding land.  In Roman times the area around the river Wandle was settled because of the easy fording of the river.  By 1600, textile mills were attracted to the River Wandle because of the sp
ecial quality of its water, a chalkstream ideally suited to the washing, dyeing and printing of textiles. By the start of the 19th Century, there were 100 water-wheel mills and over a thousand people employed by the print works or related businesses.  Today only 4 wheel mills survive: Grove Mill Carshalton, The Snuff Mill, Ravensbury Mill at Morden, and the wheel at Merton Abbey Mills - which is the only one fully restored and working.
The Colour House Theatre (400 yrs old) is the site's most ancient building and likely the only remaining part of the medieval Merton Priory. Liberty's used it to mix their dyes for silk printing, hence its name but since 1995 it is now a miniature theatre, with shows every weekend.
Located at: Merantun Way, Wimbledon, SW19 2RD
Closest tube: Colliers Wood (Northern Line)