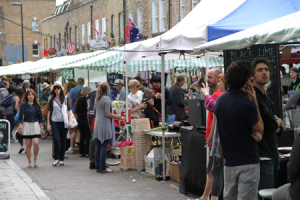 If you are looking for a great alternative to Borough Market then the Broadway Market in Hackney is for you.  One of the oldest chartered street markets in London, it fell into oblivion in the 80s and stayed that way until recently.  But it is now in a tremendous resurgence that has made it one of the most vibrant authentic London markets.  Many would agree that this is what a street market should be like, and to some degree is what Borough Market would be like if only Londoners went.
While the market's primary focus is high-quality locally sourced produce (their motto is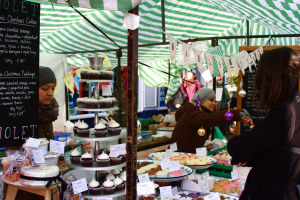 'Quality, Specialty, Variety'), the market has become a place for the trendy in the East End to go.  With the young fashionable set well represented, its a great place to stroll and people watch.  The quality of the food is excellent, and over 100 vendors are present - one of the vendors has been here for over 50 years.  While fresh produce is abundant, there is plenty of ready to eat food to satisfy Saturday morning cravings, or lunch needs.  The range of edibles spans the globe, and with Regents Canal on one end and London Fields park on the other it is easy to pick up food and go find somewhere pleasant to eat it.  In addition to the food, vintage clothing and artisinal products are well represented.
Beyond the street vendors, there are plenty or shops, pubs, restaurants and art galleries in the area to create a great day out experience.  Some of the historic shops & pubs hark back to the days when shepherds drove their flocks to town down this street, and coal barges travelled the canal - as seen through the jellied eels for sale at Fred Cooke and in the name of the 'Cat and Mutton' Pub named after the bridge where the 'cat' (a coal barge) went under and the mutton went over.   Also, as a point of interest, the market was the location for the 2007 film Eastern Promises.  Hackney is now investing in new toilets at the south end of London Fields as well as some beautification projects to improve the appeal further.  The market is held on Saturdays from about 9-5 (busiest late morning / around lunch)   www.broadwaymarket.co.uk
Located at: Broadway Market (between London Fields and Regents Canal), Hackney
Closest Tube: Haggerston (overground) or Bethnal Green, or closest rail: London Fields.