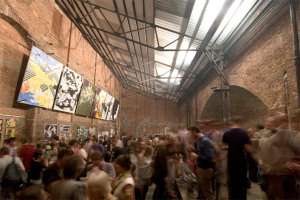 Opened in 2007, Village Underground is a non profit organization that is part creative community & part arts venue.  At this location musical events, theatre, performance art and art exhibits occur.  There is a detailed calendar and ticket information (when needed) on their website (see below).  There is no ticket office at the facility - so if you plan on attending an event where tickets are required be certain to purchase as instructed on the website.
The main Village Underground centre is housed in a renovated turn-of-the-century warehouse primed for everything from concerts and club nights to exhibitions, theatre, live art and other performances.  High above Great Eastern Street, atop the venue, four recycled Jubilee line train carriages and shipping containers make up the creative studios of Village Underground.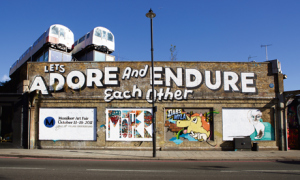 These uniquely renovated spaces accommodate up to 50 artists, writers, designers, filmmakers, VJ's, and musicians working side-by-side in a creative community.  Located on the Broad Street rail viaduct which was built in 1848 and had been derelict for over 20 years - which had self seeded into a meadow with trees and wildlife.  Along with the viaduct, Village Underground negotiated with Hackney Council to take over the then severely derelict Victorian warehouse. This new cultural centre was thus formed in a place whose previous incarnations included a railway coal store, a music hall, and an eighteenth century theatre. For specific information on events and exhibits go to: http://www.villageunderground.co.uk/home
Located at: 54 Holywell Lane, Shoreditch, London EC2A 3PQ
Closest Tube: Shorditch High Street (overground) or Old Street.