Located just north of Green Park tube station, Shepherd Market evokes images of an older time with its secretive village square hidden in the heart of London.  Most people will get a sense of discovery when they come here for the first time, especially if entering from the north through the covered walkway off Curzon Street (just west of Half Moon St).  But entering from the south on the curvy, narrow cobbled streets is just as evocative.
With numerous classic Victorian pubs, shops and restaurants surrounding the central square and stretching out on the adjoining alleys and cobbled streets it is a great escape from busy Piccadilly to the south or Oxford Street to the north.
Located near Berkeley Square, many visitors to London may come to this general vicinity but never see this true hidden gem.  A detour is well worth it.  While weekday crowds are made up mostly of local workers from the surrounding offices, it doesn't ever seem overly busy here.
History:  Shepherd Market is within Mayfair and is located on the site that used to host the 15 day market held annually in May from the 1686 until it was banned in 1764 from this location.  At that time it moved to Bow.  This fair gave the district its name which many years earlier was originally fields with the River Tyburn flowing through them.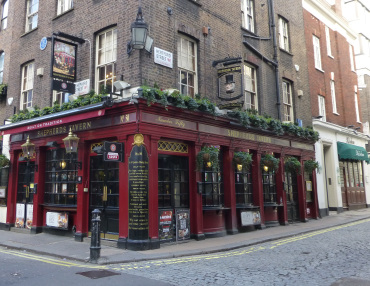 Its original purpose was for cattle trading, but over the years the fair grew in size and popularity through the addition of jugglers, boxing and gambling.  As a result of this expansion in scope, it started to attract a less desirable segment of the population - which, along with development in the area, led to the

banning of the fair in this location.
An architect, Edward Shepherd, was hired to redevelop the area - that gave rise to the eponymous street names here - a convenient coincidence given its animal market roots.  His original redesign resulted in paved alleys, a two-storey market with a theatre, and a duck pond.  The theatre had the desired result with a more upscale clientele frequenting the area.  Today the theatre and market are gone, leaving an open square that provides a unique village feel.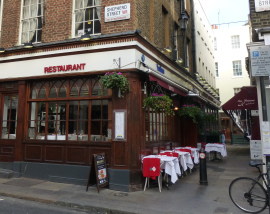 The Victorian pubs (Ye Grapes - 1882, The Kings Arms  & Shepherd Tavern) and fashionable boutiques and restaurants still provide that late 19th and early 20th century ambiance - a time when this area was possibly the most fashionable in London.
Literature: Shepherd Market was the setting for Michael Arlen's 1924 book "The Green Hat" - a book that went on to be a Broadway play and a film (starring Greta Garbo).  On adjacent Half Moon Street is where P.G. Wodehouse located Bertie Wooster's house.
Location:  The area is bordered by Shepherd St, Trebeck St, & Curzon St.
Closest Tube:  Green Park or Hyde Park Corner.