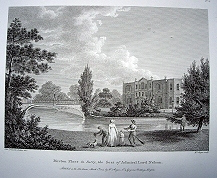 While most visitors to London see Nelson atop his column, a small journey outside central London to the Borough of Merton can provide a more meaningful glimpse into Nelson's life.  Here there are a number of locations associated with Admiral Horatio Nelson - including churches, parks and other buildings - including the site of Merton Place - the only home he ever owned - though sadly it is now gone.  Nelson's association with Merton is fairly tragic - as he bought a home where he and his mistress, Emma Hamilton, would live out his retirement but his untimely death meant that he was here only a few years.
History:  In the early 19th Century, Merton was a very rural parish, with less than 1000 residents.  Emma Hamilton found a property for them to live in here and in 1801, Nelson purchased Merton Place. The estate was enlarged through purchases of land south of his house.  His property covered most of the area west of the River Wandle and north of Morden Hall Park.  It included the area between Haydons Rd, Merton Rd and South Park Rd.  While he lived here with his mistress, Emma Hamilton, so did her husband, Sir William Hamilton, until he died in 1803.  This would certainly be viewed as odd even in today's world - though it should be noted that Emma and Horatio were only 7 years apart in age - while Emma's husband was 35 years older than her!  Even though at the time it was front page scandal, Nelson's position in England's national pride never wavered.   Nelson lived here with Emma and their daughter, Horatia, until he left in September 1805 for Portsmouth where he departed for, and died in, the Battle of Trafalgar.
After his death Emma was unable to maintain the property. She lived here until 1808.  In 1821 the house was demolished with the land sold off in parcels.  Roads such as Victory Rd, Trafalgar Rd, Hardy Rd, and Nelson Rd are all built on lands from the estate.  The Borough of Merton highlights locations associated with Nelson on their website, and they encourage visitors to see them by walking amongst them.  Sadly much of the area has been turned into housing estates and some of the sites (excluded from my list below) on the Merton Borough web site stretch for a meaningful connection with Nelson.  Those that are easy to walk between, visit briefly and have a more meaningful connection are below.
How to visit the key sites:
Tube to South Wimbledon (Northern Line).  Then just south of the station is:

St. John the Divine Church & Nelson Gardens: 
Located on 'High Path', off 'Morden Rd' just south of the tube station.  This is a newer church, built in 1914, and it commemorates the death of Lord Nelson. The church lies on ground formerly part of Nelson's 160 acre estate and has a fairly rural feel to it despite its location.  The altarpiece in the church is made from timber taken from Nelson's flagship, HMS Victory.  Adjacent to the church is the Nelson Gardens Recreation Ground - created on a parcel of land donated by the great nephew of Rear Admiral Isaac Smith to mark the centenary of Nelson's death. There is a commemorative plaque and a pair of cannons - believed to have come from Nelson's Merton Place estate where they supposedly sat to either side of the front door.
Cross Morden Road and keep walking due west - connecting with Melbourne Rd.  Then stay heading west, walk through park, cross Dorset Rd, and onto Sheridan Road.  Turn left at Church Lane at arrive at: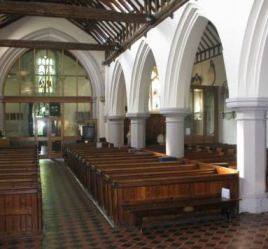 Church of St. Mary the Virgin:  Nelson was a patron of this church.  While most of the wooden box pews were removed during the 19th century, Nelson's pew survives at the front of the church.  Funerary hatchments (memorial panels & painted coats of arms) commemorating Nelson and Sir William Hamilton can be viewed.  Outside the church, on Church Path, are "Nelson's Steps" supposedly used by Nelson to mount his horse.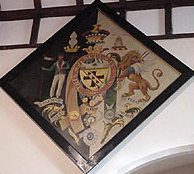 Backtrack to the tube station and then head east on Merton High Street.
Along the south side of Merton High Street is where Merton Place, his home, was located.  It was located near Doel Close, just off Pincott St, and is now remembered through a plaque on the side of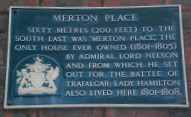 the building.  All the buildings in this development are named after, or connected to, Nelson.
On the right, at 15 Merton High St, before you reach Abbey Road is:
The Nelson Arms:  This pub marks the site of the lodge and entrance gates to Nelson's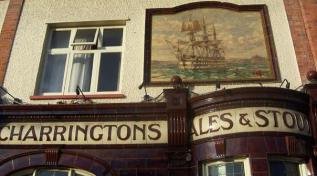 Merton Place.  The estate originally fell within two parishes. The southern part including the house and grounds lay in Merton, while the stables, gardens and remaining farmland lay in Wimbledon. A brick-lined tunnel passed under the road, allowing the residents of Merton Place to travel from one part of the estate to the other.  The current building dates from 1910. Its front is decorated with a unique series of murals by Garters of Poole, depicting Lord Nelson and HMS Victory.  The interior is quite a contrast - very modern with Warhol style pictures and leather sofas.
Continue further east a short distance until your reach, on your north:
Wandle Park:  This park is claimed to have been a regular place where Lord Nelson and the Hamilton's visited when it contained Wandlebank House - owned by the Editor of the successful London paper of the day - The Morning Chronicle.  The house was demolished in 1962.
This leaves you at Collier's Wood tube station.
Literature:  I feel obliged to comment that my uncle, Edward Bishop, wrote a book titled - Emma, Lady Hamilton - for those that may be interested - though it is out of print it can still be found online.
For the other sites related to the "Nelson Trail" but not covered in my post visit the Merton Borough website at: http://www.merton.gov.uk/leisure/visiting/attractions/nelsontrail.htm