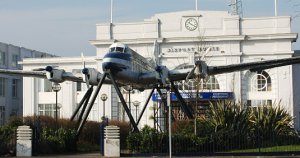 This is one of the most historically significant airports in the world given it role in the history of international aviation, and its involvement in WWI & WWII.  The Visitor Centre provides insight into Croydon Airport's history focusing on its most significant period - the 1920s and 30s.  The visitor centre is located in 'Airport House' - the former terminal building (Grade II listed).  From 1920 to 1946 this was the UK's primary international airport and the first purpose built international airport in the world.  But prior to its ascendancy, the airport played a role in World War I.  It began service in January 1916, and continued as an operating airport until September 1959.
The Airport's History:    During WWI a ring of airfields were created around London to protect the City against Zeppelin raids.  In December 1915, Beddington Aerodrome was established and in January 1918, Waddon Aerodrome was created, primarily as a test-ground for the new National Aircraft Factory no 1.  At the end of WWI, the two airfields were merged and became the 'Air Port of London' - London's first official customs airport & the only airfield for all international flights.  In March 1920 it was renamed and opened as Croydon Aerodrome (later Airport).
Between the wars, this was a glamourous place for those who could afford air travel.  It became the hub for global air travel and the new 'air mail' international service. The first scheduled flights were to Paris, Amsterdam and Rotterdam, and in 1923 to Berlin. Many of the air companies that operated from Croydon merged in 1924 to become Imperial Airways Ltd.  In 1928 the first purpose built terminal was opened, as were the new Aerodrome Hotel and new plane hangars.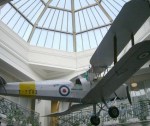 Famous People:  Because of its position as 'the' international airport, Croydon saw Charles Lindbergh land here in 1927 shortly after he completed his first trans-atlantic solo flight.  Alan Cobham flew from here in 1925 to Capetown (and back in 1926).  The first flight to Australis departed here in 1928 (pilot: Bert Hinkler), and the first woman (Amy Johnson) to fly to Australia left here in 1930.
World War II:  Just before WWII begain, Croydon was converted to an RAF Fighter Station.  It played a key role in the Battle of Britain and was target on Aug 15, 1940 during the first main German raid on London.  In 1944, it became London's base for RAF Transport Command and then started to provide civilian service again, with full conversion to a civilian role occuring in Feb 1946.
The End of Croydon Airport:  With no space to expand, 1946 saw Heathrow designated as London's new airport.  In 1952 the future closure of Croydon was planned, and the last flight was on Sept. 30, 1959.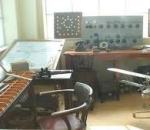 The Airport's Redevelopment:  The terminal building was renovated as 'Airport House' in the 1990s providing office space.  This building contains the visitor centre with multiple galleries sharing the airport's rich history.  The original radio room was also restored as in on display.  In 1991, a war memorial recalling those who died here in WWII was unveiled.
Other Facilities:  The Aerodrome Hotel survived and is now the Hallmark Hotel - and it has just completed a £2 million renovation.  The building contains a cafe - Rayon d'Or - named after the first plane to Paris that contained meal service.
Visitor centre:  Open monthly on the first Sunday from 11 am - 4 pm.  Admission fee: £2 adults, under 16 - free.  The centre also hosts lectures most months on aviation topics - usually the 3rd Thursday of each month (except December).  Check their website for specific details: http://www.croydonairport.org.uk/
Located at: Airport House, Purley Way, Croydon, CR0 0XZ
Closest transit: Waddon Station - from London Bridge (Southern Rail - 30 mins).