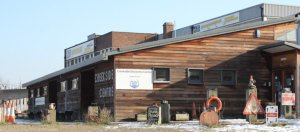 Not far from Greenwich Maritime Museum is Creekside Discovery Centre at Deptford Creek which provides opportunities for individuals to get up close with urban wildlife in a river setting.  Run as a charitable company, Creekside Discovery Centre offers a broad range of activities, mostly focused on exploring the area of Deptford Creek, where the River Ravensbourne reaches the Thames.  Their walks allows participants an opportunity to walk through the muddy banks of the river and see fish, birds, saltwater plants and mammals in their natural environment.
The Centre comprises a purpose built environmental education building from which walking tours depart.  Participants don river waders and depart with a staff member / tour guide for a fun mudlarking style walk.
A little History: Deptford Creek is where the River Ravensbourne flows into the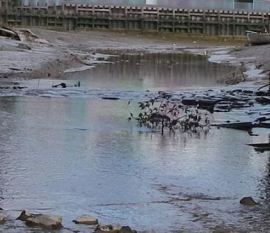 River Thames.  The river rises at Caeser's Well in Keston, near Bromley.  Flowing 11 miles, it reaches the Thames here - a place recorded in history for various reasons.  For example on 17-June-1497 the Battle of Deptford Bridge was the final battle in the Cornish Rebellion.  Also, here in 1580 Queen Elizabeth knighted Francis Drake on board the Golden Hind after he returned from circumnavigating the globe.  The Golden Hind remained moored here until it fell into disrepair.
Low Tide Walks:  Perhaps the most compelling activity here is the low-tide walk.  On this walk you are taken into an urban, but wild, river where you can experience both the regions history and its flora & fauna.  These walks usually occur at least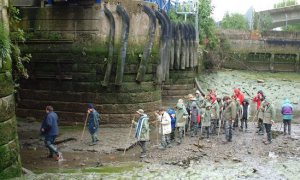 once a month, and advance booking/reservation is highly recommended.  Each walk is about 2 1/2 hours long and led by an experienced conservationist.  You will often see eel, stickleback, flounder, chinese mitten crab, leeches, shrimp and prawn.  In addition, it is common to see birds ranging from herons to cormorants.  Must be 8+ yrs old.  Waders, waterproofs and a walking stick are provided.  It is recommended you wear old clothes as mud stains are hard to remove!  Most walks are on Saturdays. Adults: £10.00, Children: £8.50, Family: £28.00.
Free Events:  In addition to the guided river walks the Centre also hosts various free events.  Check their website to see the upcoming activities that are free.  These are often more traditional walks along the River Ravensbourne. No age restrictions as these do not go into the River.  Expect to get a guided tour that provides insight into local wildlife and history.  These tours are offered through the "Rivers & People Project" whose goal is to connect people with the region's waterways and to preserve and enhance the interaction of nature with urban life.
For more information on both the 'River Walks' and the 'Rivers & People Project' and for specific events see: http://www.creeksidecentre.org.uk or @Creekside_Trust
Located at: 14 Creekside, Deptford, SE8 4SA
Closest Transit:  DLR: Deptford Bridge or Greenwich
Photo credit: Creeksidecentre.org.uk