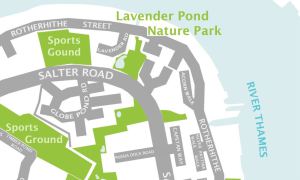 Lavender Pond Nature Park is a small urban oasis providing a haven for wildlife, as well as a mini-rurual escape and an educational resource.  The Nature Park was created in 1981 by Southwark Council and is located in a portion of the old Surrey Commercial Docks.  These docks were once the centre of Britain's timber trade and Lavender Pond was an expanse of shallow water where timber was floated to prevent it from drying out.  The original entrance was under a moveable bridge on Rotherhithe Street which provided access to small boats.   When the Port of London regulated water levels throughout the docks through the use of a newly built Pump House in the 1920s, the entrance to Lavender Pond was closed off.
Today Lavender Pond reminds the visitor of the typical wetland habitats that were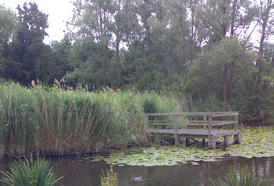 prevalent along the Thames before the development of the river banks from the 16th Century onwards.   This particular section of the Thames - Surrey Commercial Docks - evolved significantly in the 18th and 19th Centuries - with the building of the major docks - Greenland (1703), Russia (1810), Norway (1811), & Canada (1876).  In addition to these key docks three shallow timber ponds were created - known as Acorn (1811), Lavender (1815) and Quebec (1926).  Collectively, most natural waterscapes were lost to development.
Given the importance of the docks, they were heavily damaged in WWII.  Since then the area has gone through various phases of redevelopment and regeneration.  Surrey
Docks' 350 acre expanse officially closed in 1970.  By the 1980s, the Pumphouse was in significant disrepair, and the timber ponds had been mostly filled in.  But then efforts began to restore the area and the Lavender timber pond was restored back to that of a wetland area - with open water, marsh, reed beds etc..
Today Lavender Pond Nature Park covers 2.5 acres with a variety of ecological habitats.  Wooden boardwalks enable visitors to enjoy the park without impacting the ecosystem.
For more information see their website: http://www.urbanecology.org.uk/
Located at: Lavender Road / Salter Road, Rotherhithe SE16 5DZ
Closest tube: Canada Water or Bus 381 or Hilton Docklands Pier (ferry)