Arguably the only historic battle site in Greater London, the Battle of Barnet was a decisive battle in the War of the Roses. It was significant because Edward IV's victory led to 14 years of Yorkist rule in England.  It is also potentially significant as one of the earliest battles to have used artillery.  English Heritage, which is placed in charge of conservation of historic sites including battlefields, states that the battlefield is likely 0.5 to 1 mile north of the town of Barnet. However, various groups would like to raise funds to do archeaological digs as some now feel it may be further north.
English Heritage references a 15th-century letter from a merchant, Gerhard von Wessel, that aids in identifying the battlefield location via certain geological features. It mentions a "broad green" - potentially Hadley Green - and a marsh that was to the right flank of the Yorkist line - also potentially the valley of the Monken Mead brook.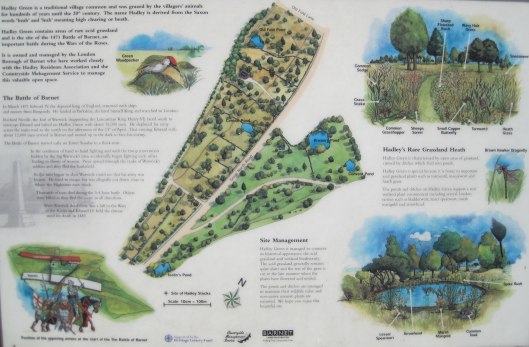 The letter also mentions St Albans road, which has remained largely the same, winding through the fields. Development from the 18th century onwards has covered most of the fields where the Battle of Barnet was fought.   Though one claim is that a hedge in the Old Ford Manor golf course is possibly the row of shrubs behind which Oxford's men lined up and took cover!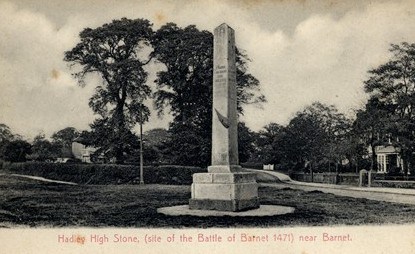 In 1740, an obelisk was erected to commemorate the battle about 200 metres south of the junction between the Great North Road and Kitts End Road. It was later moved just north of the junction on the grass between the two roads. Known as "Hadley Highstone" this 18 ft tall monument is inscribed as follows: "Here was fought the famous battle between Edward the 4th and the Earl of Warwick April the 14th ANNO 1471 in which the Earl was defeated and slain."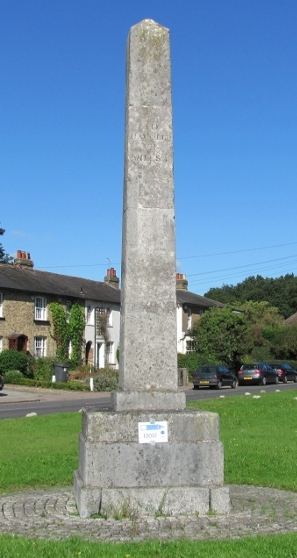 If visiting this area, Monken Hadley Common (or Hadley Woods) is the only remaining part of Enfield Chase - and a haven for wildlife, walking and nature.  Learn more at http://www.monkenhadleycommon.net/
Located at:  Hadley Highstone @ Kitts End Road / Barnet Road junction (A1000); Hadley Green is just south of the Highstone (closer to the tube station).
Closest tube: High Barnet, then take the 84 bus north 1 mile.
(Note: this is an update of a post previously written in May 2012)