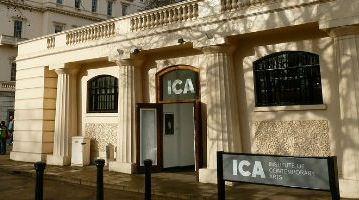 While many visitors and residents have visited the Tate Modern and perhaps the Saatchi, another Contemporary Art venue worthy of a visit tends to avoid the touristy crowds.  The Institute of Contemporary Arts (ICA), located in the West End at the north east corner of St. James's Park, provides a venue for art exhibitions, film screenings and related special events.  Within the ICA are numerous galleries, a theatre, two cinemas, a shop and a Cafe bar.
History:  The ICA was founded in 1946 as an alternative to the Royal Academy.  The founders wanted to creative a place that fomented discussion and debate about all  facets of the arts world.  Initially housed in the basement of the Academy Cinema on Oxford Street, the ICA managed to host significant exhibitions in its early years.   In the 1950s the ICA hosted exhibitions of Braque, Pollock and Picasso.  Its success necessitated a more permanent home, and in 1968 the ICA moved into Nash House on the Mall.  More recently, Damien Hirst had his first solo gallery exhibition here (1991).
Today:  Exhibitions typically change quarterly, and with upper and lower galleries, there may often be more than one exhibition at a time.  The two cinemas have frequently changing film offerings, varying in style but with a bias towards independent / art house film.
As of the time of writing this post, exhibitions included the following: (1)  Keep Your Timber Limber (Works on Paper) exploring how artists since the 1940s have used drawing to address ideas critical and current to their time, including the politics of gender, feminist issues, war, censorship and sexuality.  (2) The Grantchester Pottery is presenting works made collectively, including hand-made wallpaper, a woven pottery blanket, murals and screens alongside functional ceramic items including lamps, vases, paperweights, pots and cups. (3) Points of Departure features new commissions by British and Palestinian artists (see photo above).
In addition to film screenings, there are also periodic moderated debates.  One upcoming debate is titled "The Trouble With Counter Culture" and has three noted speakers.  As with films, most events have a ticket price.  Membership is not required but if you come here often a membership gives you a discount of ticket prices.  Most exhibitions are free to enter.  All film showings and special events usually have a price and tickets can be booked online at: http://www.ica.org.uk/  A full calendar of all exhibitions, films and events is found here too.  Hours are generally Tues-Sun from 11-6  (until 9pm on Thursdays).  Box office, bookshop, film screenings may be open later.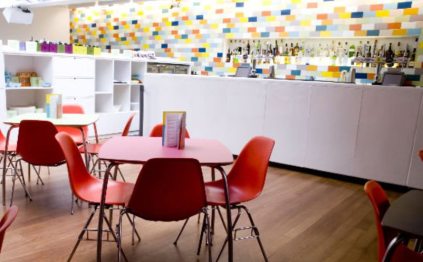 Cafe and Bar:  The Bar is open from 11am-11pm (Tuesday night is 2-for-1 cocktails from 7-9pm!).  There is also a 'light bites' food menu.
Gift Shop:  The ubiquitous art gallery gift shop offers typical fare - books, DVDs, magazines and gifts.
Located at:  The Mall, London SW1Y 5AH
Nearest tube:  Charing Cross or Piccadilly