While I generally try to write about places you can go year round, this particular post is about things you'll have to make an effort to see - but it's well worth it.  In particular, my goal was to give enough advance notice of the upcoming event to be held on 17-August that is well worth considering.  Because after all, who doesn't want to see historic WWII Spitfires and Hurricanes flying overhead!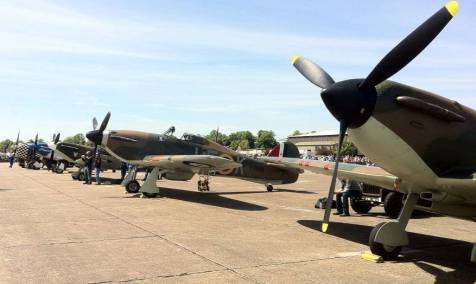 Biggin Hill Heritage Hanger (BHHH):  Established in 2011, BHHH has the primary purpose of preserving, restoring and operating a wonderful collection of historic airplanes.   These aircraft are not just museum relics, many are airworthy and can be seen around the country, and here, at numerous events throughout the year including open houses and shows.  Their organization's goals are to provide current and future generations the chance to see airworthy Spitfires up close and in the air. They organize open days, arranged visits and tours throughout the summer months. All of which they advertise on their website and Facebook page - see below.  Over the summer a few of these events are held within Greater London.  The Spitfires and Hurricane will be at the Damyns Hall Aerodrome (a private general aviation facility located in Upminster (see http://www.damynshall.co.uk/ ) when they host the 'Military and Flying Machines show' August 2-3.  The other main opportunity to see these planes will be at Biggin Hill on August 16th for a notable event (see below).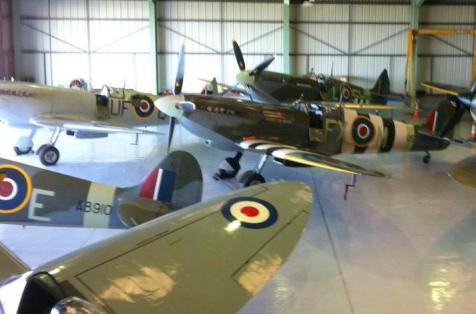 BHHH's aircraft: Their aircraft include some excellent fully airworthy examples of the legendary WWII Supermarine Spitfire fighter aircraft.  Each plane has its own detailed wartime history that you can learn about when visiting.  Their planes include the following:
Airworthy Spitfires include a Mark IX Spitfire, known as the 'Spirit of Kent' (acknowledging that Kent was the only county in the UK to have paid for an entire RAF Squadron), a Mark IXc Supermarine Spitfire and a Mark XVIe Supermarine Spitfire. Other planes include a Hurricane, built as Hurricane I by Canadian Car & Foundry in 1941. Among the many other planes here are several other Spitfires undergoing restoration.
Musical Salute to "The Few":  Of significant note is this event held on 17-August-2013 and featuring the Royal Airforce Band.  It has been 3 years since a similar event was held.  During this event ticket holders will relive the 1940s and the Battle of Britain.  With video, narration, music, re-enactors and the aircraft themselves, attendees will experience a scramble of fighter planes, flyovers, and an aerial display.  Gates open at 3pm, pre-event entertainment starting at 5pm and the main event from 6:30pm - 9:30pm.  Go to http://www.synergyeventsuk.com/tickets for ticket info.  Their Facebook page is a good resource to stay up to date on all their activities and the location of all the events that BHHH participates in. 
There regular web page is: http://bigginhillheritagehangar.co.uk/  Souvenirs available on this site and through their ebay shop help raise money to restore the planes.  FYI: Their webpage events calendar is not as accurate as their FB page.
Other Experiences:  Through the BHHH you can pay for the opportunity to actually sit in the cockpit of a Spitfire as well as fly in as a wing-man alongside a Spitfire in the air.  To learn more about these experiences click here.
Biggin Hill History:  In WWII this was a RAF aerodrome and one of the most famous airports during the Battle of Britain.  As one of the primary bases for British fighter planes, its pilots shot down over 1,400 enemy aircraft providing the primary defence for London against bombers attacking from the south-east.  While today the airport is mostly civilian, there is still a small RAF Biggin Hill installation here - housing an Air Training Corp.  Given the airports history it is very appropriate that it is the home of the Biggin Hill Heritage Hangar Ltd.
Located at: Main Rd, Biggin Hill, Bromley, TN16 3BH
Nearest rail:  Charing Cross to Orpington (by rail), then Bus R2.
Photo Credit:  Several of the photos are sourced from BHHH's FB page.