While outdoor swimming in London could be viewed as a bit of a novelty (think Hampstead ponds!), the heated Olympic pool at London Fields is an historic venue and worth a visit.  Summer is officially here whether or not the weather cooperates.
History:  Records show that London Fields park has been around since at least 1540.  Today this 30+ acre park just a few miles from central London has something for everyone - including grassy areas, a pub, tennis courts, a BMX area, bicycle paths, a well used cricket pitch and a lido.  The Lido originally opened in 1932 but was closed in 1988.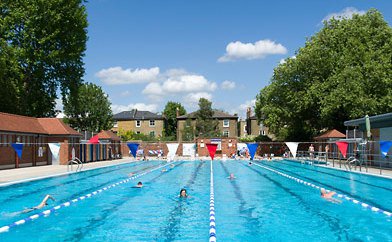 Today:  After saving it from the wrecker, restoration and renovations have returned the Lido to a better version of its former self.  Reopened in 2006, it is now open year-round and is heated - making it the only outdoor heated Olympic size pool in all of Greater London.  The restoration retained some of the architectural style and feel of a 1930′s Lido.  Run by Greenwich Leisure Ltd it is now a popular place justifying its renovation.   In addition to the pool, there is also a sunbathing terrace and a cafe.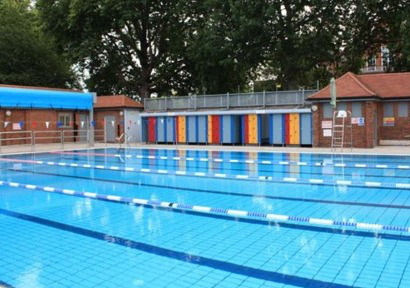 Organized Events:  During the middle of the day (usually 9:30am - 6pm or later on Fri-Sun) the pool is open for general swimming.  In the early mornings and at other times there are structured programs for those who would like water based workouts or training.  For example the Swim Fit program (most mornings at 6:30 - 9:30 am) is aimed at swimmers who want to swim in a lanes to get more of a workout.  See their website for a full calendar of events: http://www.better.org.uk/leisure/london-fields-lido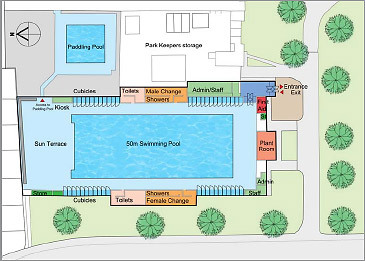 While swimmers should bring their own towels, accessories such as googles, armbands and floats are available to purchase at reception.  There are changing and shower facilities as well as onsite lockers available (bring 20p's or £1.00 coins).
Anyone can use the Lido.  Admission is £4.50 (16+) or £2.70 (under 16).  Frequent users should consider a membership.
Located at:  North-west corner of London Fields Park, London Fields Westside, London E8 3EU.
Closest Rail:  London Fields (direct trains to Liverpool Street)