The Old Truman Brewery complex covers 10+ acres on both sides of Brick Lane.  The area and this complex have been regenerating over the last 15 years making it a destination in its own right today.  With a blend of retail, leisure and events spaces, along with a wonderful collection of street art from some of the world's best known artists, the Old Truman Brewery site is worth a visit.
History:  There was a brewhouse here as early as 1666, but in 1724 the Black Eagle Brewery was built - becoming the largest in London and the 2nd biggest in Britain.  By the early 19th Century this brewery was producing over 200,000 barrels of Porter a year.  By the end of the 19th Century, most production was shifting to Burton-upon-Trent for the water supply and quality.  But this London brewery kept going - though in decline.  Finally in 1988 it closed.  Its name today recognizes the family that started and built it in its early years.
Events:  There are numerous events, openings and gallery exhibitions happening here - and they change all the time.  So for an up to date list be certain to check their website.  For example, at the time of writing, StolenSpace Gallery is exhibiting art by D*Face while 'Free Range 2013′ - Europe's largest graduate art and design show - is occurring throughout the complex.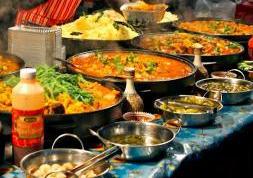 Sunday (Up)Market:  Open Sundays from 10am onwards, this indoor market has over 140 stalls selling fashion, accessories, crafts, decorative items, music and food.  This market aims to be a platform for designer-makers to sell direct to their customers. The food area is very multi-cultural - with everything from Ethiopian coffee to Sushi to Moroccan food.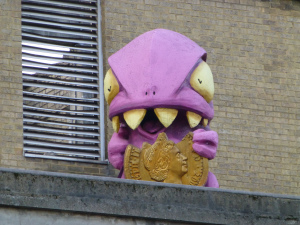 Street Art:  While Brick Lane is known for its street art, trips into side streets and parking lots reward the explorer.  Art by Shepard Fairey and D*Face, among many others, is easy to find.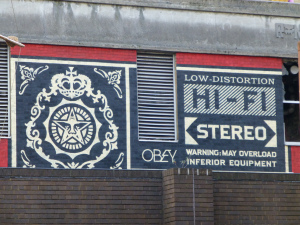 Shopping & Other Activities:  There are numerous bars, clubs and restaurants - something for everyone.  Whether you are looking to dance til 1 am, or just eat out - you'll find the choice here.  There is also a bowling alley here - All Star Lanes.  Shopping outlets tend to focus mostly on fashion and art.  Most shops and galleries are open from 11-7 daily (6 on Sunday), though a few open earlier, and a few are closed on Monday.
Located at:  91 Brick Lane, London, E1 6QL
Closest Tube:  Aldage East (or Shoreditch High Street / Overground)