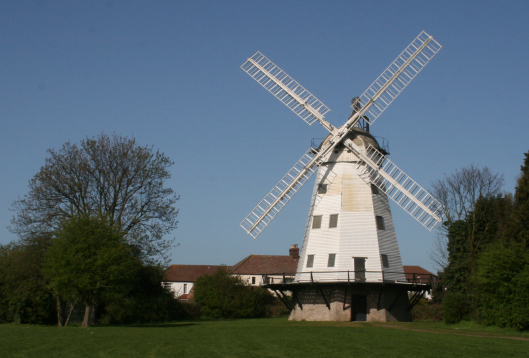 Not long ago much of what is now Greater London was working farmland.  While little remains to remind us of those days it is still surprising to see a windmill in London.  Today, only nine windmill structures survive in Greater London - of which the Upminster Windmill is one.  Now surrounded by housing, this mill warrants a visit as its sails can still operate, it is a rare smock design, and because it provides perspective and insight into Greater London's farming roots.
Upminster Windmill has plenty of open days this summer (usually two weekends each month), and with the combined classic car show on 7th July, this is a great time to visit.  Admission is free though donations are requested.  For specific open dates and times see their website at: http://www.upminsterwindmill.co.uk/
The Windmill:  This Grade II listed building is considered one of the best remaining windmills in England built in the 'smock' style.  Smock mills are generally octagonal (a few are hexagonal) as opposed to the cylindrical look of 'tower' style mills.  This windmill is octagonal, on a brick base, with five levels inside.
In January 2013 it received initial funding from the Heritage Lottery fund to begin the process of pursuing a full grant of £1.4 million that will allow for complete restoration as well as the building of an educational and training centre.  Visitors get to climb inside the windmill (stairs are steep!) and view the original workings and machinery.
There are some great vintage photos of the windmill on the Friends of Upminster Windmill FB page, and there is a nice video on YouTube of the windmill with sails turning: View Video
History: In 1803 a Mill, along with a bakery and various cottages were build at Bridge Farm in Upminster.  By 1812, steam engines had been installed to drive two mill stones.   While the mill is productive in its early years, the farm transfers hands numerous times due to debt and deaths.  By 1849, an auction described the mill as "comprising a most substantial modern built Corn Mill, …, with capital steam engine … driving five pairs of stones, and substantial Engine House, Granaries and Storage for a large quantity of corn.  Stabling and other suitable Outbuildings, with a modern well-built detached comfortable Residence.  … 2 Millers Cottages and a pond full of water, together with a beautiful and productive meadow, containing 11 acres".   In 1857 the windmill and farm was purchased by the Abraham family - still remembered by many who refer to this as the Abraham Windmill as their family continued to operate the mill until 1934.
By the early 20th Century government controls of corn during WW I along with the growth of large scale milling lend to the decline of the independent windmill.  In 1937 Essex County Council purchased the mill with the intent to develop the site.  With public persuasion, the mill was saved, but in the 1960s the outbuildings were razed.  In 1965 ownership transferred to Havering and in 1968 it was opened to the public. Since then continual restoration has occurred. 
Other Mills:  For related information, two other related posts should be viewed:  Brixton Windmill and Three Mills Island (a tidal mill).
Located at:  The Mill Field, St. Mary's Lane. Upminster, RM14 2QL
Closest tube:  Upminster Bridge (District Line).  Head east from the Station along Upminster Road / St Mary's Lane.  The windmill is less than 0.5 mile from the Station.  You will pass the Windmill Pub along the way is a drink / meal is wanted.