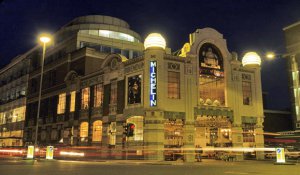 In anticipation of Dunlop losing control of the tyre market with the loss of patent protection, Michelin Tyre Company Ltd commissioned the building of Michelin House as their first permanent British headquarters in 1909.  Its design style has been described as examples of Art Nouveau, proto-Art-Deco, Secessionist Functionalism and geometrical Classicism. It has even been described as 'the most completely French of any Edwardian building in London'! Designed by Francois Espinasse, an employee of the company, who was probably under the guidance of Edouard and Andre Michelin.  The building opened in 1911.  It had fitting bays, basement storage or up to 30,000 tyres, and a 'touring office' with maps and accessories for planning journies.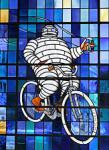 In 1985 Michelin moved out of the building and in June of that year it was bought by Sir Terence Conran and Paul Hamlyn. Planning permission for a Restaurant, bar, major retail store and additional office space was obtained and a programme of extensive restoration of the building and reinstatement of many of its most prominent original features was begun.  Conran Design Group were responsible for the interiors of the new restaurant and bar on the ground and first floors, and for the retail area. In all three spaces, they opted to retain aspects relating to the history of the building whilst introducing new themes appropriate to its change of use.  For more information or reservations go to: http://www.bibendum.co.uk/index.html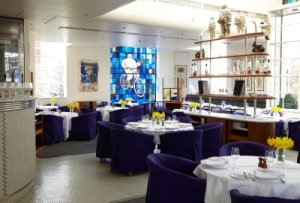 Both the Oyster Bar and the Restaurant refer directly to the building's association with tyres and, in particular, to Bibendum, the Michelin man. Both are named after him and take advantage of every opportunity to reflect his corpulent profile. Both the Restaurant and the Oyster Bar continue to retain strong French overtones, with a clear emphasis on quality and style. The new Michelin Building is now every bit as concerned with modernity, efficiency, quality and style today as it was when it first opened in 1911, nearly a century ago.
Location: 81 Fulham Road SW3 6RD
Closest Tube: South Kensington