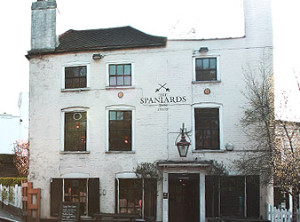 Built in 1585 as a tollgate inn on the Finchley boundary, the Spaniards formed the entrance to the Bishop of London's estate - an original boundary stone from 1755 can still be seen in the front garden. These boundaries are still relevant today - the pub is in Barnet and the tollhouse is in Camden, both are now listed buildings and traffic is reduced to one lane between the two. A proposal to demolish the tollhouse opposite the Spaniards in 1961 was successfully resisted, partly on the grounds that it would lead to more and faster traffic.  The Inn remains a quaint, oak panelled and atmospheric pub with one of the best pub gardens in London which were originally created as pleasure gardens, with an artificial mound from which one could see views over London and even as far as Windsor Castle. 
 Dick Turpin is thought to have been a regular at the Inn and his father is rumoured to have been a previous landlord. What is certain is that highwaymen frequented this area and likely used the Inn to watch the road; at that time the Inn was around two hours from London by coach and the area had its fair share of wealthy travellers. Records from the Old Bailey show that on 16 October 1751 Samuel Bacon was indicted for robbery on the Kings Highway and was caught 200 yards from the Spaniards. A tree (now gone) at the end of the road was a famous site where highwaymen were hanged when caught.  The pub also has a great literary heritage. Not only has it been mentioned in Dickens's The Pickwick Papers and Bram Stoker's Dracula, but it can count among its previous frequenters the artist Joshua Reynolds and the poets Byron and Keats. If you believe the Inn's spiel, Keats allegedly wrote his Ode to a Nightingale in the gardens, and Stoker borrowed one of their resident ghost stories to furnish the plot of Dracula.
Located: Spaniards Road, NW3 7JJ
Closest tube: Golders Green (and 210 Bus) or Hampstead (15 min walk).