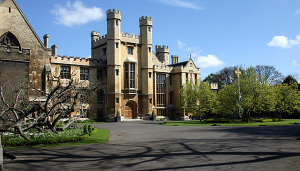 Lambeth Palace, on the south bank of the River Thames opposite Parliament, has been a historic London residence of the Archbishops of Canterbury since the 13th century.  Formal tours take approximately an hour and 30 minutes and include all of the Archbishop of Canterbury's State Rooms, the Chapel, Atrium and Crypt.  Within the grounds of Lambeth Palace is located the Lambeth Palace Library, with its notable store of  ecclesiastical documents covering- alongside the records of the Church  of England- the archive of former Archbishops of Canterbury.  Tickets are priced at £10 per person and are available to individuals and groups of up to 50 people.
Guided tours of Lambeth Palace are now available to book through Ticketmaster. Tours will take place on Thursdays and Fridays throughout 2012.
Closest tube: Lambeth North.