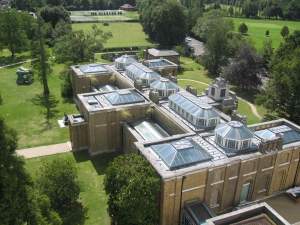 Dulwich Picture Gallery is an art gallery in Dulwich, Southwark. England's first purpose-built public art gallery, it was designed by Regency architect Sir John Soane per the request of the founding donor.  The building was opened to the public in 1817. Soane arranged the exhibition spaces as a series of interlinked rooms illuminated naturally through skylights – a concept that had an enduring influence on art gallery design. The gallery houses one of the country's finest collections of Old Masters, especially rich in French, Italian and Spanish Baroque paintings and in British portraits from Tudor times to the 19th century.
The collection was initially put together by two London art dealers under the commission of the King of Poland who wanted a 'royal collection'.  However, Poland was partitioned before the collection was delivered and the dealers, after failing to sell, donated the collection to Dulwich College after deciding against the British Museum.  The collection has been added to over the years.  It includes Rembrandt's 'Jacob de Gheyn III', considered the most stolen painting in the world.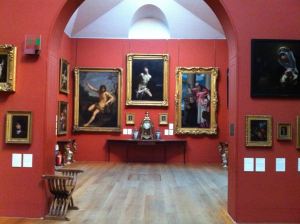 In addition to the permanent collection, the picture gallery also hosts various exhibitions.  The gallery is open Tues-Fri from 10-5 and weekends from 11-5.  Adults  £5.00, children free.  See the website for more details:  http://www.dulwichpicturegallery.org.uk/default.aspx
Located at: Gallery Road, SE21 7AD.
Closest rail: Victoria Station - West Dulwich Station (the Orpington line, Travelcard Zone 3) -  OR London Bridge - North Dulwich (Travelcard Zones 2 and 3).