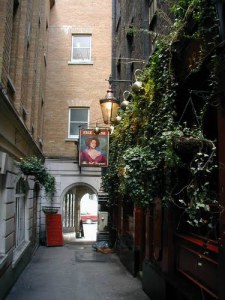 Eleanor Gwyn or Gwynne (1650-1687), known as 'Nell', was a long term mistress of King Charles II.  Samuel Pepys called her "might pretty Nell", and she embodied the Restoration Period of England.  She also was a rags-to-riches personality, who moved from the streets of Covent Garden to actress and mother to two of King Charles II's illegitimate children.  She moved into the Theatre initially as a seller of oranges to theatre goers.  From there, to acting, and given her looks, fame and personality, became the King's mistress.   This small, cozy pub, dates from 1650 and is relatively hard to find as it is down an alleyway between the Strand and Maiden Lane.   The current building was rebuilt in 1897.  The Bull Inn was the pub's original name (from which the alley gets its name).  It was renamed after Nell and it is appropriately located near two theatres. There is a sign at the Strand end of the alley.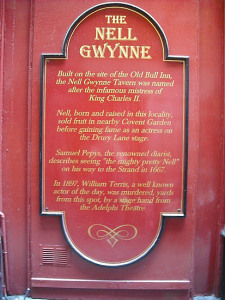 A sign on the pub wall gives a brief history of Nell Gwynn and tells of the murder of an actor outside one of the nearby theatres. The story claims that in 1897 a stagehand from the nearby Adelphi murdered the actor, William Terris, in the alley and he continues to haunt the location.
Located at: 2 Bull Inn Court, Strand, WC2R 0NP
Closest tubes: Charing Cross, Embankment or Covent Garden.