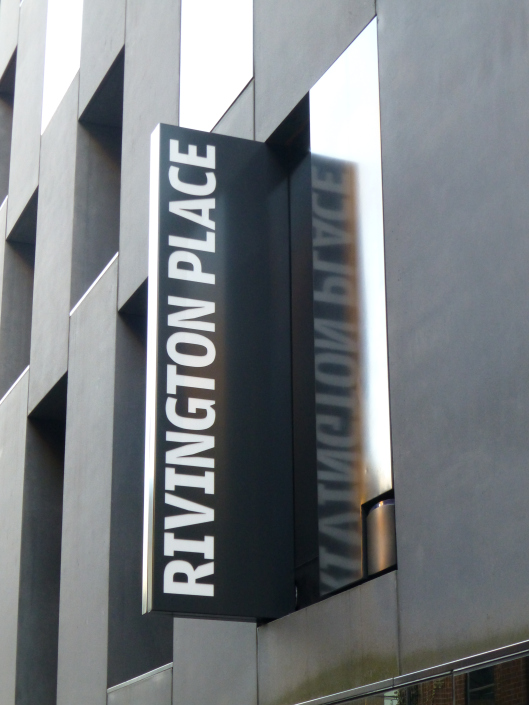 As a relatively new entrant to the art scene, Rivington Place in Shoreditch, just off Brick Lane, is well worth a visit.  It is a purpose built international visual arts centre.  Now 6 years old (opened in October 2007) this art venue is the UK's first permanent public art space dedicated to diversity in the visual arts. This allows the venue to exhibit artists that may otherwise not receive exposure in London's other public galleries.  Their motto is "Art, Debate, Diversity".  Consequently it is well worth a visit as the art on display is often innovative and insightful.  The curators are not bound by showing what is known but by a commitment to show what is current and relevant today. Artists from all around the world can be found here and exhibitions change on a regular basis.  In addition the gallery provides a schedule of free talks and events that are open to the public (see: http://www.rivingtonplace.org/Next-Events ) that give insight and perspective on the exhibitions.
Rivington Place was the first new public gallery built in London in 40 years.  The last one being the Hayward Gallery.  As home to the Institute of International Visual Arts (Iniva) and Autograph APB the gallery's purpose is to advance and promote cultural diversity in the arts.  The five-storey building that houses the gallery cost £8 million to complete and was the first publicly funded new-build international art gallery.  Designed by David Adjaye OBE the building is influenced by African and contemporary art as well as the history of the local area. In addition to housing several gallery exhibition spaces over several floors, there are education spaces, a Library and a café.
With some many people visiting the Shoreditch area now to see the vibrancy of Brick Lane, the Truman Brewery and Sunday market, Rivington Place should not be missed.
Library:  The Stuart Hall Library is open Tues-Fri 10-1, and 2-5.  Memberships are available and access is open to anyone.
Cafe:  The cafe, Shutterbug, serves freshly made crepes, Climpson's coffee, snacks, beer and wine.  It is open Mon-Wed 8am-6pm, Thurs-Fri 8am-midnight, Sat 10am-midnight, Sun 10pm-6pm.
Visiting: Rivington Place art space is open Tues/Wed/Fri 11am – 6pm, Thurs 11am – 9pm, Sat 12 – 6pm. Closed Sun-Mon.  Admission is free for regular exhibitions.
Located at:  1 Rivington Place, London EC2A 3BA
Closest Tube:  Old Street or Shoreditch High St (Overground)