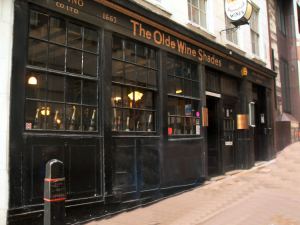 While all claims can be debated, it is hard to argue the the Olde Wine Shades is not the oldest pub in the City of London.  Established in 1663, this is a rare survivor of the Great Fire of London.  Potentially this is the only true drinking establishment in the city still going today that was not destroyed in the fire.  This pub even has a smugglers tunnel leading down to the river Thames.  The tunnel was finally sealed after bomb damage during the Blitz in 1940.  It was a favourite haunt of Charles Dickens.  Now owned by El Vino, a London wine merchant for well over 100 years, it is operated as a wine bar. 
There is also a restaurant - The Candlewick - located in the cellars, which provides a unique atmosphere.  Tucked into a quiet City lane this is a darkly atmospheric if slightly timeworn wine bar but its history makes it worth a visit.
Located at: 6 Martin Lane, The City, City of London EC4R 0DP
Closest tube: Cannon Street or Monument.