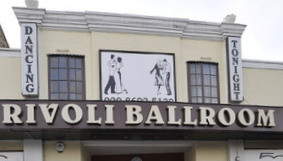 The Rivoli Ballroom truly is a step back in time.  It is the only intact 1950s ballroom in London and contains an authentic interior with luxurious touches of gilt, red velvet & showy light fixtures that has been described as a 1920′s revival style.  As a Grade II listed building, it has an older history as a cinema, but as an authentic dance hall it is well worth a visit - either to soak in the atmosphere or go dancing.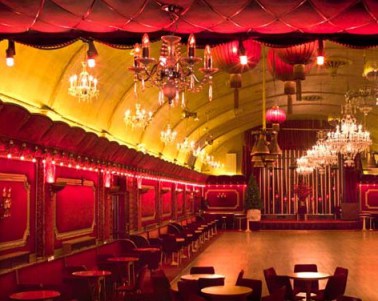 The facility contains a foyer leading into the main ballroom, flanked by two bars.  There is also a newer, smaller function room that does not have the same visual appeal.
History:  In the summer of 1913, a cinema opened here in Crofton Park with a barrel-vaulted ceiling which still survives today.  By 1918 it was known as the Crofton Park Picture Palace, and in 1931 it was called the Rivoli Cinema.  At that time a few changes were made to the building adding some art deco features and a cafe.  The main auditorium seated 700.  In 1957 the cinema closed,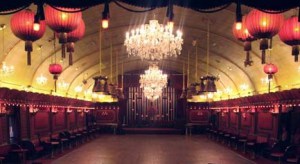 reopening 2 years later as the Rivoli Ballroom.
As years passed, the popularity of ballroom dancing waned.  In 2007  the threat of demolition led to a campaign to save the building which in 2008 successfully led to its listed status. 
Film, Music & Visual Artists:  Brad Pitt and Robert Redford filmed here for 'Spy Game'. The venue has been used numerous times by performing artists in music videos - including Elton John for his song 'I guess that's why they call it the blues', Oasis, Charlotte Church, and Tina Turner for her song 'Private Dancer'.  Recently, the Kings of Leon performed here (for a BBC show), as have the White Stripes and Florence + the Machine.
The Ballroom was also the subject of one of artist Peter Saunder's last exhibitions. "Dancing at the Rivoli Ballroom (Some Enchanted Evening)" captured the spirit of this place.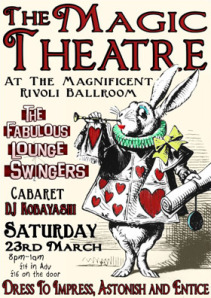 Dance Events:  Several events are held throughout the month that are open to the public to purchase tickets to.  They range from Salsa dancing to live jive, jazz and big band music.  There are also periodic costume events.  Most events are organized by various groups with interesting names - such as Jackie's Jukebox, Magic Theatre and Jive Party.
See http://rivolilondon.com/nights_out.html or http://www.therivoli.co.uk/index.html for specific details on events and tickets.
Located at: 346-350 Brockley Road, Crofton Park, SE4 2BY
Closest Transit:  Crofton Park rail station (directly across the street - travel from Blackfriars - 20 mins).