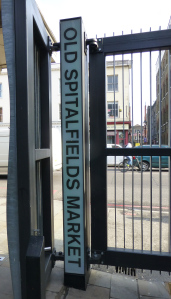 While many visitors to London go to Camden Market, Portobello Road and Borough Market, a surprising number still don't visit the eastern edge of the City, let alone the East End.  However, there are a number of great places to visit here - including Old Spitalfields Market - just a short walk from Liverpool Street station.  On a rainy day it is particularly nice to find an indoor market!  With changing vendors throughout the week, great fixed boutiques and numerous eating spots, its worth a visit and certainly still feels less touristy than some of London's other markets.
History: The Early Years:  The name "Spitalfields" comes from the hospital and priory, St. Mary's Spittle, that was founded in 1197.  In a field, next to this prior, is where this market began.  The original charter for the market was granted by Charles I in 1638.  At first the market was for livestock and vegetables.  The charter was reissued after the Great Fire by Charles II in 1682.  At this time the market was held on Thursdays and Saturdays.
The Victorian Market:  Spitalfields market fell into decline after the 1820′s.  As the area's popularity waned, housing costs fell and immigrants moved in bringing the historical diversity the area is still known for today.   In 1876 a former porter at the market - Robert Horner - bought a lease to the market with the goal of revitalizing it.  From 1887 to 1893, at a cost of £80,000, a new market building was built covering the newly revigorated wholesale fruit and vegetable market.  The building is now Grade II listed, and while it has been restored, is the building you see today.  In 1991 this market moved to Leyton as the 'New Spitalfields Market', leaving behind what was now called the 'Old Spitalfields Market'.  The regeneration of the old market building and surrounding area officially ended in 2005.
Today: With up to 100+ stalls on its busiest days (usually weekends, especially Sunday) the market is open daily, and offers covered shopping - both at the stalls and surrounding shops and food spots.  Thursday is mostly an antiques market, while Friday is 'fashion' and art.  On the 1st and 3rd Fridays a 'vinyl' record market is also here.  Saturdays offer a themed market each week - see their website for what is there each week - it ranges from vintage clothing to collectibles.  Sundays is a general market - something for everyone.  Hours: Mon-Wed 10-5, Thu 9-5, Fri 10-4, Sat 11-5, Sun 9-5.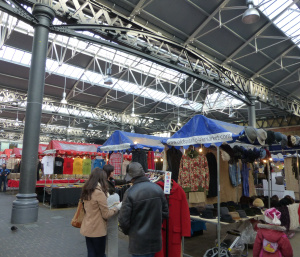 See http://www.oldspitalfieldsmarket.com/  or @oldspitalfields for more information.
Located at:  Spitalfields Market, 16 Horner Sq, E1 6EW
Closest Transit:  Liverpool Street Stn (tube or rail) or Aldgate East