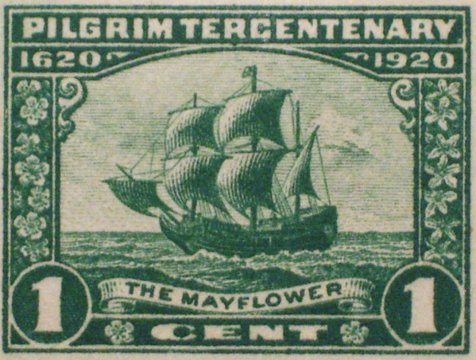 Rotherhithe is a Saxon word meaning 'landing place' but one of its most famous moments was as a place of departure.  It was here in 1620 that the Mayflower departed from outside the Shippe Inn, beginning its journey to Plymouth and on to the New World.
Rotherhithe:  This area was a popular place for boats to dock and unload their goods.  One local boat, the Mayflower, was partly owned by Rotherhithe resident Christopher Jones who had moved here in 1611.  For years the Mayflower's primary cargo was wine from Europe.  But in 1620 it was hired to transport religious separatists to the New World.  The Mayflower sailed from Rotherhithe with 65 passengers on its first leg of its journey to America.  Departing from in front of a public house, the Shippe (now renamed The Mayflower), its Captain was Christopher Jones (see below).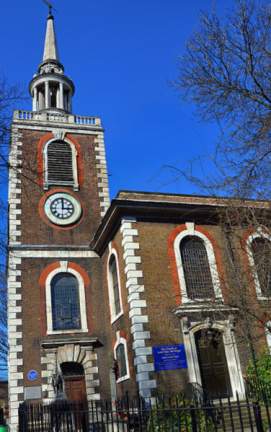 St. Mary the Virgin:  Just south of the Mayflower pub (Shippe Inn) is the church of St. Mary the Virgin.  There has been a church here since at least the 1100s.  The current building is from 1716 and was designed by John James - an associate of Sir Christopher Wren.  The church is linked to England's maritime history in many ways, but its connection to the Mayflower and those who left for the New World, later to be known as Pilgrims, is its most significant.  The Captain of the Mayflower, Christopher Jones, was a parishioner here.  His children were baptised at St Mary's and he is buried in the churchyard (he died in 1622 after returning from America with his ship). The exact site of Captain Jones' burial is unknown though a memorial tablet can be found inside the church.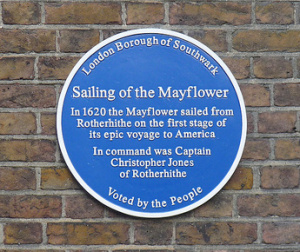 On the tower of the church is a blue plaque commemorating the sailing of the Mayflower.  For more information on the church visit: http://www.stmaryrotherhithe.org/
The Mayflower Pub:  Originally known as the Shippe, this pub dates back to the 1550s.  It is claimed that Captain Jones docked the Mayflower at the Shippe Inn to avoid paying commercial dock fees.  The pub underwent various name changes over the years, but in 1957 it was restored and renamed to celebrate its connection to the Mayflower.  Still with its dock on the Thames in front, the building also used to be a riverfront Post Office and so in recognition of this it is claimed to be the only place in London that is licensed to sell both US and UK postage stamps.
A short walk east of the pub brings you to Cumberland Wharf where a statue depicting a Pilgrim and an informational panel can be found.
Located at:  St.Marychurch Street, Rotherhithe, SE16 4JE
Closest rail:  Rotherhithe (Overground) or Canada Water