Eat like a Victorian East Londoner!  During the Victorian period the working classes in the east end of London often dined on eel, pie and mash, often along with eel liquor sauce (essentially a gravy made from the water the eels were kept in that is flavoured and coloured with parsley).  Eels were one of the few things that could survive in the polluted Thames of the 1800s and they were in plentiful supply.  Eels were either stewed or boiled and allowed to cool, which creates a gelatinous coating - or 'jellied eel'.  Different techniques of making the sauce (or liquor - but not alcoholic) would differentiate one pie maker from another.  'Eel, Pie & Mash' houses were open from the late 1700s onwards, but as eel supplies dwindled & tastes changed many of these shops closed up or modified their menus.  Recently, there has been a small resurgence in the appeal of traditional 'British' food, with the popularity of places such as St John's and chef Fergus Henderson.  One benefactor of this is a willingness of people to seek out traditional 'Eel, Pie and Mash' shops for a true taste of historically significant London food.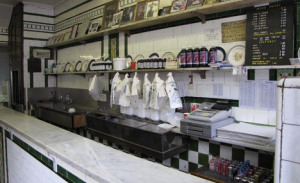 The oldest surviving 'Eel & Pie' shop in London is M. Manze, at 87 Tower Bridge Road in Bermondsey which opened opened in 1891, but changed to the Manze name in 1902 (note: their location in Deptford opened in 1927).  The Manze family came from Italy in the late 1800s and started off in the ice and ice-cream business, but later changed to eel, pie and mash.  The original shop was opened by Michele Manze, and his grandchildren still run the business today.  The shop sells pies and mash, as well as both jellied and stewed eels and liquor, with recipes that are essentially unchanged since 1902.  When David Beckham is in town it is claimed he is a regular, as was the late Roy Orbison.  The shop has been seen in Elton John's 'Made In England' music video and an interview of Victoria Beckham for the 'Rich & Famous' TV show. Sit down eating, take out or delivery.  For more information visit their website at: http://manze.co.uk
Located at: 87 Tower Bridge Road SE1 4TW  (original site from 1902).  Generally open Mon-Sat from ~10am - ~2pm.
Closest tube: Borough (10 min walk)