Within a short walk of the Natural History Museum is this little gem that lets you escape the crowds and experience a fascinating collection of musical history.  Located between the Royal Albert Hall and Imperial College London is the Royal College of Music (RCM).  RCM is one of the great conservatoires in the world - founded in 1882 - with students that included Gustav Holst, Benjamin Britten and Vaughn Williams.  Within this College's buildings, performance venues and educational facilities is the Museum of Instruments.
The museum contains musical instruments dating from the 15th century onwards.  On
display are highlights from the collection of over 1,000 instruments.  While changes do occur to the items on display, expect to see the anonymous clavicytherium (believed to be the earliest surviving stringed keyboard instrument) from south Germany circa 1480, as well as unusual items such as the contrabassophon, division viol (1692) and serpent.  There is also a lovely collection of tiny 18th century 'violins' known as pochettes.  Some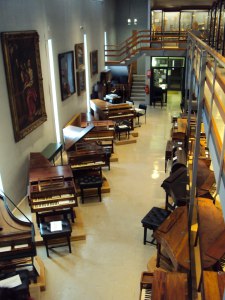 instruments belonged to famous people, such as Handel, Elgar and Holst (his trombone!).  While the instruments are mainly from Western classical music, there is a smaller section of around 100 objects devoted to instruments from Africa and East and South Asia.  The ground floor focuses on Western wind instruments and English keyboard instruments.  The instruments are generally arranged according to their place in an orchestra.
Alongside these are some of the most significant portraits from the RCM's art collection, including oil paintings of Haydn, Boyce and Farinelli.  There are also manuscripts, including autographed copies of original work from Mozart, Hayden and Elgar.  Other ephemera on display are letters and photographs, as well as a sampling of the collection of concert programs (600,000 in all) dating back to 1730 documenting the history of performed music.
Open Tues - Fri 11:30 - 4:30 pm.  Admission is free. If you would like a guided tour they are available for a small fee and should be booked in advance.  See their website for more details:  www.rcm.ac.uk/visit/museum/
Located at: Prince Consort Road, SW7 2BS
Closest tube: South Kensington or Gloucester Road