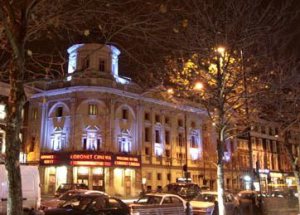 The Coronet opened in 1898 and was quickly viewed as the best theatre outside of London's west end.   With visits by King Edward VII and performances by the famous French actress Sarah Bernhardt, it seemed destined to succeed.  But given its proximity to the West End it competed, unsuccessfully, to gain a solid customer base.  By 1923 it converted exclusively to a cinema and over the years the seating capacity has been reduced.  As a cinema it is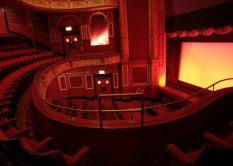 unique in that the theatre's interior has been mostly preserved which provides a very different feel than a typical cinema.
Its survival was not assured.  The Coronet was almost demolished in the early 1970s when the Rank Organization (the owners at that time) put the building up for sale with a plan to 'regenerate' the area by building offices and retail space.  Fortunately, the action of local citizens and the Council led to the building's preservation.  The Rank Organization then refurbished the theatre and a few years later sold it intact.  In 2004, it was sold again - this time to a church group that despite initial concerns has maintained it as an historic cinema.
It currently has two film screens.  The main auditorium holds 400 people across two levels of seating - Stalls & Circle (the 3rd level Gallery is not currently used for films).  The second auditorium is much smaller and is located on the old theatre stage, behind the main screen, with the ability to be removed should the theatre be restored fully.  The theatre is not fully modernized - the seats are old, the sound not surround, and there's no 3D films here.  That said, it is very affordable (check website for very cheap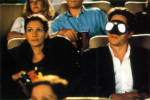 screenings typically on Tuesday) and is a step back in time.  With its more recent claim to fame as a location set in the film "Notting Hill" with Hugh Grant & Julia Roberts you'll find it hard not to enjoy yourself and feel nostalgic when you come here.
Website for information, prices and showtimes: www.coronet.org/
Located at: 103 Notting Hill Gate, W11 3LB
Closest tube: Notting Hill Gate