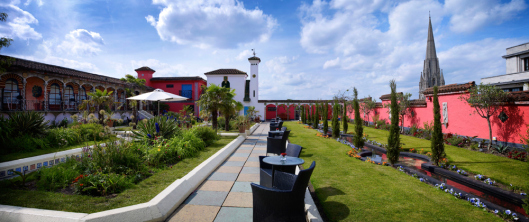 Located one hundred feet above Kensington High Street in central London, The Roof Gardens and Babylon Restaurant are unique.  Originally above Derry and Tom's department store which opened in 1933, The Roof Gardens were the dream child of the vice president of Barkers, Trevor Bowen, who employed landscape architect Ralph Hancock to realise his vision. There are three themed gardens, with over 70 full size trees, a flowing stream stocked with fish and resident flamingos & ducks.  Sir Richard Branson purchased the gardens in 1981.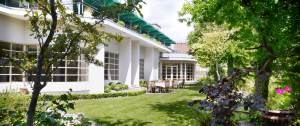 The gardens sprawl over 1.5 acres including fully grown oaks and fruit trees, growing in just 1.5m of soil.  The Gardens are open for the public as long as not booked for a private function.  Call ahead to confirm access: 0207 937 7994.  Overlooking the gardens on the 7th floot is Babylon Restaurant.  Special events include live Jazz on Tuesdays, alfresco dining & outdoor BBQs as weather permits.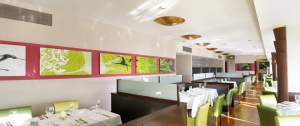 The gardens also host outdoor film nights.  Check the website for hours of access and for information on booking at Babylon Restaurant:  www.roofgardens.virgin.com/
The three gardens are: (1) Spanish Garden: Based on the Alhambra in Granada, Spain, this garden has a distinct Moorish flavour. (2) Tudor Garden: This garden is filled with evergreen shrubs surrounded by fragrant lilies, roses and lavender in the summer months, while wisteria fills the air with its delicate fragrance. (3) English Woodland: This is undoubtedly at its best in the spring months, when thousands of narcissus, crocus, muscari and anemones burst into life.
Located at: 99 Kensington High Street, W8 5SA
Closest tube: Kensington High Street