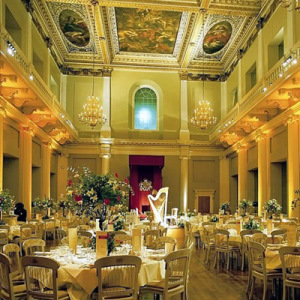 The Palace of Whitehall was the primary home of the Monarch from 1530 until 1698.  In 1698 the Palace (except for the Banqueting House) was destroyed by fire. Prior to its destruction it was the largest Palace in Europe - larger than the Vatican or Versailles.  The surviving Banqueting House, though refaced in Portland stone, is one of the first examples of the principles of Palladianism being applied to an English building, and marks the beginning of a revolution in British architecture.  After parts of the early Palace were destroyed by fire, Inigo Jones was commissioned to design a new Banqueting House.  He travelled to Italy, saw the buildings of the ancient world, and decided to recreate something of their effect in rainy London.  This was supposed to look like a piece of ancient Rome transposed to Whitehall, and the effect was extraordinary.
The building was intended for masques, receptions and entertainment.  One of the buildings highlights is the masterpiece ceiling painting by Peter Paul Rubens - it is one of the most famous from a golden age.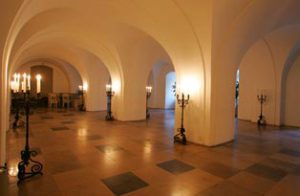 Other sights include the vaulted undercroft of the Banqueting House which was designed as a drinking den for James I and his friends.  The Banqueting House was also the site of Charles I's execution on 30 January 1649.  He had lost the Civil War, and his enemies had finally decided that execution would be the best fate for him.
Open Mon-Sat from 10am to 5pm. Admission fee.  Tickets available at the facility. Call ahead to confirm not closed for a Government or private function.  Occaisional concerts or special events are held here.  For more information visit their website at: http://www.hrp.org.uk/BanquetingHouse/Default.aspx
Location: Whitehall (south east corner of Horseguards)
Closest tube: Westminster or Embankment