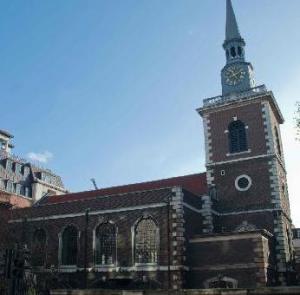 Just a short stroll from the chaos of Piccadilly Circus is an oft overlooked church built by Christopher Wren as well as a simple, but pleasant, daily outdoor market.  It is unique as Wren only built a few "new" churches and it is one of only 3 churches he built outside the City of London (the others are St. Anne's in Soho, and St. Clement Danes in Westminster).
The Church:  As the western edge of London grew, citizens started petitions for a new church to divide the parish of St. Martin's in the Field.  Land was sought, and in 1662 the 1st Earl of St Albans (Henry Jermyn) offered land he had the leasehold for as a site for a church, vicarage and graveyard.  The Crown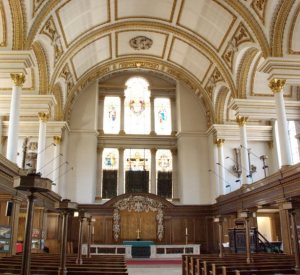 Estate was slow to grant freehold status for this land, which was needed before a church could be consecrated on it.  But ultimately it did.  The land Jermyn set aside was bordered by Piccadilly to the north and Jermyn Street to the south.  Christopher Wren was selected as the architect in 1672.  This was a busy period for Wren as his firm was actively involved in rebuilding many churches destroyed in the Great Fire.  However, unlike those churches St. James's was a new build - with no specific footprint to rebuild upon.  Consequently it is fairly unique within Wren's oeuvre of churches.  Construction began in 1676 and while the church was consecrated into service in
1684 construction of its steeple continued after this.  The inside of the church is certainly elegant with its raised galleries on three sides and its barrel vaulted nave.  The architectural style is similar to only a few other churches Wren designed.  In various letters and documents attributed to Wren he states his affection for this particular church and his satisfaction with the architectural and design elements which were new for him at the time.  Today it is a Grade One listed building.  Of note: William Blake, poet and artist, was baptised here in 1757.  Also, the church was damaged in WW II but has been sympathetically restored.  Services are held daily (except Saturday).
The Market:  In the forecourt of the church on the south side of Piccadilly, there is a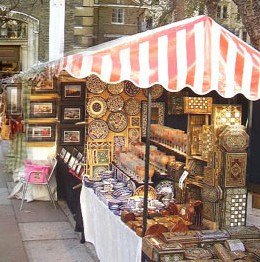 market from 11-5 on Monday, and from 10-6 Tues-Sat.  From small beginnings in 1981 it has grown significantly and provides a source of income to support the church's maintenance.  On Monday it is a food market; on Tuesday the focus is on antiques and collectibles; on Wed-Sat the focus is arts and crafts.  Many of the traders, about 40 in all, sell items from emerging economic regions, like Tibet, Africa and India.  There is also an on-site cafe.  For more information or for a list of traders see their website at: http://piccadilly-market.co.uk/
Located at: 197 Piccadilly London W1J 9LL
Closest Tube:  Piccadilly Circus