For a different perspective of the Royal Opera House consider a backstage tour (and combine it with a glamourous lunch or tea - see below).  The "Backstage Tour" also includes visiting the front of house, stage, dressing and set/prop areas of one of the world's leading theatres as it prepares to open its doors for the evening performance.  Included in the tour is an introduction to the colourful history of the theatre, an insight into the re-development of the Royal Opera House and a look at aspects of current productions. As the Royal Opera House is a fully working theatre, each tour is a unique experience, and may include opportunities to see The Royal Ballet in class, or the magnificent backstage technology in operation. 
The backstage tour lasts about 75- 90 minutes.  Tours are held at preset times and dates.  Tickets need to be purchased in advance and tours do generally sell out, so plan ahead. As of posting, current full price tour is £10.50 and concessions are available.
Other tour types (all shorter at about 45 mins) exist with different focuses.  Visit the website for more information or to book tickets: http://www.roh.org.uk/visit/tours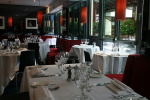 There is also a gift shop open Mon-Sat from 10 am - 7:30pm.  The restaurants and bars are generally open to non-ticket holders (check online for details), and combining the tour with lunch or afternoon tea at the Amphitheatre Restaurant is recommended for a more glamourous experience (to make a reservation, call +44 (0)20 7212 9254).
Located at: Bow Street Covent Garden London WC2E 9DD
Closest tube: Covent Garden