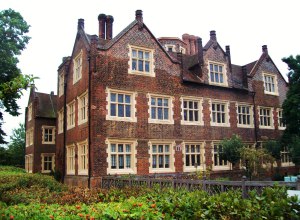 If you've never been to Eastbury Manor, there are only 2 weeks to go before it closes for a few months (on 19-Dec-12).  Prior to then there are two events to consider here:  7-Dec (Friday) - 5:30pm - 9pm - Christmas Carols and a Concert, and on 11-Dec (Tues) from 7:30pm-9:30pm a Christmas themed candlelit tour.  Perhaps reasons enough to make a visit to this historic home located in the middle of Barking.
History:  Eastbury Manor House was built during the reign of Elizabeth I, circa 1570.  After being the country house of gentry families for the earlier part of its history, by the 18th and 19th centuries Eastbury (sometimes known as Eastbury Hall) was inhabited by a succession of tenants such as yeoman farmers, butchers and graziers. They fattened cattle on the rich marshland pasture before selling them in the London

markets.  The house gradually fell into decay. One of its two octagonal stair turrets was pulled down in the early 19th century, and one room was even used as a stable. It was in danger of complete demolition until 1918 when it was purchased by the National Trust.  Restoration has continued in phases, with the most recent restoration completed in 2010 with funding from the National Lottery.  Now each room in the house has informational displays providing history and insight into the home and the people who lived there.
Architectural Features:  The exterior of the home is authentically Tudor.  Within the home the servant's hall has been restored which contains original oak panelling painted 'Eastbury Brown'.  Upstairs, frescoes depicting fishing scenes survive in the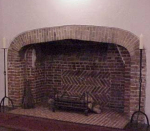 Painted Room as does the sole original Tudor fireplace.  In the west wing, an original newel post oak staircase provides access to the octagonal turret. You can also access the attic to see the timber framing.
In addition to visiting the house, a tea room is available.  Tours can also be candlelit at night, and murder mystery events are hosted there.  Opening hours and cost of admission is on their website, but generally it is open Mon/Tues 10am-4pm, and on the first two Saturdays each month 10-4pm:  http://www.lbbd.gov.uk/MuseumsAndHeritage/EastburyManorHouse/Pages/Home2.aspx
Located at: Eastbury Square, Barking, IG11 9SN
Closest tube: Upney