Within a short tube or rail ride from central London, you can escape to a country home in magnificent gardens and parkland.  With a wide range of activities, and none of the crowds of better known London stately homes and parks, this is worth a trip.
The House: The house (Grade II) was built in 1696 for Elizabeth Tillotson after her husband, the Archbishop of Canterbury, died.  Valentines has changed hands many times since then.  In the 1720s, a city merchant and banker bought the estate and created the  many of the garden features, included the walled gardens.  In the 1760s, another owner modified the appearance of the home to create its current Georgian look.  The last private owner died in 1906, and the property was acquired by the local Council in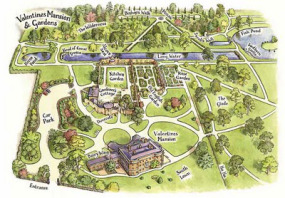 1912.  Used for various public purposes over the years (wartime refugee camp, hospital, and council housing).  By the 1980s it fell into disuse and through much of the 90s and early 2000s it was essentially abandoned and empty.  Tremendous expenditures from Redbridge council and Heritage Lottery fund have transformed Valentine's Mansion and its grounds to the current venue that it is - one that offer both a historical perspective, but also contemporary functionality.  Within the home there are Georgian rooms to explore and a wonderful Victorian kitchen has been recreated.  The top floor of Valentine's Mansion has been converted to artists' studios which supports the focus on art exhibits and art related special events held within the mansion (map image from www.valentinesmansion.com ). 
The Gardens: The gardens are also Grade II listed.  They include an historic kitchen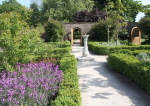 garden, old English walled gardens and the Victorian rose garden.  In the expansive park grounds beyond the house's gardens, there is a 'Long Water' canal, rococo grottoes and expansive walking trails. Valentine's gardens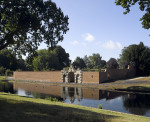 also provide a setting for events throughout the year, from open-air theatre to farmers' markets. Within the historic kitchen garden is the Cottager's Cafe - open from 10-6 (or sunset if earlier) - offering light food and drinks.
Special Events:  Regardless of the season, there are special events throughout the year.  They range from music and art festivals, to guided tours of the house and gardens, to farmers' markets and to childrens activities.
The Park and Gardens are open daily year round, and the Mansion opens on Tuesdays & Wednesdays (10am to 5pm), and Sundays (11am to 4pm).  Admission is free.  See their website for more details and specific event information: www.valentinesmansion.com
Located at: Emerson Road, Ilford, Essex, IG1 4XA
Closest tube:  Gants Hill (Central Line) or Rail: Ilford Stn (15 mins from Liverpool St)