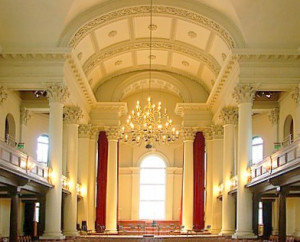 Located just south of Westminster Abbey and the Houses of Parliament is Smith Square.  In the centre of this square is St. John's church, a wonderful Grade I listed building that was all but destroyed during the Blitz.  Sold as a ruin, it was restored and is now one of London's best venues for classical and choral music.  With wonderful acoustics, a wide variety of events are held here throughout the year - from instrumental recitals, to choral works, to full symphony orchestras.  In addition, its location provides that wonderful feeling of being hidden while still in the heart of Westminster.
History:  Built from 1713 on, and finished in 1728, by Thomas Archer with a design that leads to the church being often referred to as 'Queen Anne's Footstool' (based upon a story that its design was influenced by Queen Anne after she kicked over her footstool and told Archer to build it to look like that).  Even Charles Dicken's wrote in Our Mutual Friend that it looked like a "petrified monster… on its back with its legs in the air".  That said, it is a great example of Baroque architecture even with its four corner towers.  As St. John the Evangelist it served the surrounding parish until it was hit with an incendiary bomb in 1941.  Suffering significant damage it lay as a ruin for 20 years.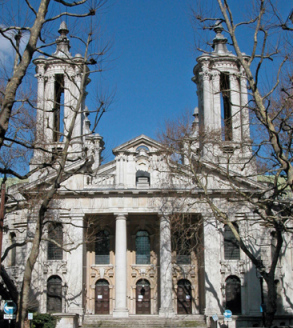 Today:  A group was formed in the 1960s to raise funds to restore the church.  By 1969 the church had been rebuilt to Archer's original design but now for use as a concert hall.  With excellent acoustics it serves this purpose well.  St. John's Smith Square operates a concert schedule from September until late July most years with a small summer break. Its Patron is Camilla, Duchess of Cornwall.
Concerts:  Tickets to concerts are available either in-person at their box office - open M-F 10-5, or through their website.  Their concert schedule can also be found on their website at http://www.sjss.org.uk/concert-schedule
Cafe / Restaurant:  There is a Café & Restaurant located in the crypt, open M-F 8-5, and it opens 90 minutes prior to any concert.  During concerts, pre-event, interval and post-event drinks and snacks are available.
Located at:  St John's, Smith Square, London, SW1P 3HA
Closest tube:  Westminster