Located just south of Greenwich, Charlton House is a magnificent example of Jacobean architecture in the UK, and certainly one of the best in London.   While the majority of the house is not open to the public, the gardens are.  Within these gardens is the walled 'Peace Garden' - opened in 2006 in support of Amnesty International's 'Stop the Violence Against Women' campaign.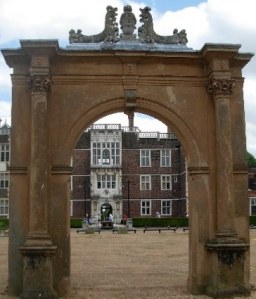 History:  This Grade I listed house was built between 1607 and 1612 for Sir Adam Newton, Dean of Durham and tutor to Prince Henry Frederick Stuart, heir to the throne, and son of King James I (VI in Scotland). Note: Henry died at 18 and his brother, Charles, claimed the throne as Charles I.  Because the Jacobean period only extended from 1567 to 1625 there are not many significant examples of this architectural period remaining.
While a wing was added to the house in the late 1800s much of it is original, with many features connecting the property to the Jacobean monarchy - including insignia, initials and motifs relating to the Prince and King James.
Over the years the property changed hands and roles many times.  It served as a hospital during WW I and ownership transferred to the local Council after that war. In WW II bombs damaged the chapel wing, which was unfortunately rebuilt with the incorrect bricks.  Since then the building has housed a museum, and now a community centre and library.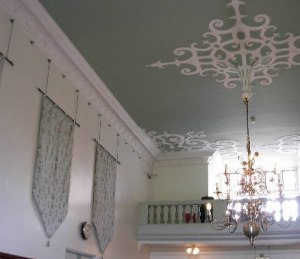 Interior:  The entrance hall has been restored and now houses a small cafe.  There is also a small exhibition room detailing the history of the house.  Original features within the house include  fireplaces, ceilings, doors and the main staircase.
Today:  As a Council owned property it is used by numerous community groups. It is possible to arrange guided tours, but if you visit during the week, the cafe is open which allows you to view some of the interior and the exhibition area (open 8:30-6pm Mon-Fri).
The Peace Garden:  The Walled and Sensory gardens are relatively newly planted and are open year round.  One of these walled gardens was opened in 2006 as a 'Peace Garden' in support of two major programs supported by Amnesty International - the campaign to stop violence against women and to control arms.  This garden has a central sculpture and offers a quiet place for contemplation.   Designed by Andrew Fisher-Tomlin, the garden contains a sculpture by Margaret Higginson, titled 'Portage', and a Japanese Peace pole donated from an artist in Tokyo, along with numerous plantings.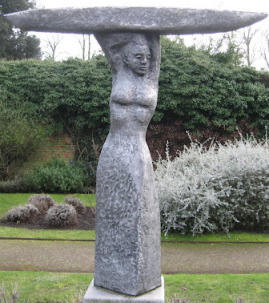 The sculpture is of a woman carrying a boat above her head, and is designed to portray the strength and spirit of women worldwide as it portrays how indigenous women travelled between the lakes of Canada.  The peace pole has the quote "May Peace Prevail on Earth" in both English and Japanese.
The Peace Garden is open daily from 10-5pm, or dusk when earlier.  
Located at: Charlton Road, SE7 8RE
Closest Transit:  Charlton Stn (rail - from Cannon St) or North Greenwich (tube) then the 486 Bus